Benjamin Rybeck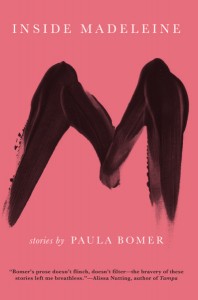 Inside Madeleine
by Paula Bomer
Soho Press, May 2014
272 pages / $16  Buy from Amazon or Soho Press
The stories in Paula Bomer's Inside Madeleine take your hand, tell you a secret, and then burp in your face, giggling. They are honest, playful, and cagey, and the very title of the collection suggests these tonal complexities: while Inside Madeleine refers literally to the various objects one character inserts into her vagina (bars of soap, a rubber ducky, penises), it also suggests something unfiltered, like when a reporter promises to take viewers "inside" an important issue or place. But here, Bomer's mischief arises again, because programs like Inside Edition (or anything that offers the "inside scoop" on the life of a celebrity) are lurid and full of shit. And so the characters in Inside Madeleine are all these things too: playful, unfiltered, lurid, full of shit. At the beginning of the book, a narrator says that women are "supposed to be nice, well behaved things," but, thankfully, nothing is nice and well behaved about Bomer's fiction.
Comments Off

on Inside Madeleine by Paula Bomer
April 28th, 2014 / 10:00 am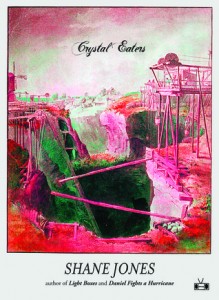 Crystal Eaters
by Shane Jones
Two Dollar Radio, June 2014
202 pages / $16  Buy from Amazon or Two Dollar Radio
The first, most obvious observation to make about Shane Jones' Crystal Eaters is that it begins with a countdown. Its first page is numbered 183, and it descends from there, 182, 181, 180, on and on, a timer that makes this novel feel like an unusually rigid experience, temporally speaking. After all, most books are objects that readers pick up and interact with on their own terms, at their own individual paces. Crystal Eaters' countdown, however, makes the book feel fleeting. While in the midst of reading it, I imagined it still counting down even when sitting on my coffee table, closed—like I would eventually open it again only to find all its pages blank, its time expired.
Crystal Eaters focuses on a village that "survives on myth," and Jones' paginated countdown helps immerse the reader in the village's central belief: that human beings are filled with crystals—100 at the time of birth—which crystals are then lost over the course of a life (bled out, vomited up, etc. etc.), until a person's number reaches zero, and that person dies. The crystals are multi-colored, and Jones writes of village kids witnessing "their parents vomiting blue and yellow slush into kitchen sinks, toilets, couch cushions, their laps." Illness in this book is surprising in its glowing, cotton-candy brightness. Almost psychedelic.
Jones' cornerstone character—named Mom—is an example of psychedelic sickness. Shriveled by illness, Mom spews red everywhere at dinnertime. She's down to her last few crystals, and she will die soon, a reality with which her family struggles. Her husband—named Dad—is aloof, trying to make the impending tragedy easy for everyone, but ultimately helpless against his wife's disease. Their daughter—named Remy—believes that there must be a way to increase a person's crystal count, thus staving off death. "The universe is a system where children watch their parents die," perhaps, but not Remy: "She'll save Mom from experiencing the number zero."
A fourth character, however, expands the novel's scope beyond the village. This character—Mom and Dad's son, and Remy's brother—is imprisoned, and his name is Pants McDonovan. (This may be the key question of my entire review: Do you or do you not want to own a novel that features a character named "Pants McDonovan"?) Pants used to be a revolutionary, waging a war against the unnamed metropolis that inches closer to the village each day (modernity threatening to engulf the village's way of life). Now, Pants lingers in his cell, eating pieces of his secret stash of "black crystals." No villager apart from Pants has ever seen a black crystal before; they exist as part of the larger system of myth that Jones suggests through his use of in-text citations, e.g., "His left eye drips crystal (Chapter 5, Death Movement, Book 8)," and, "the city has powers (Chapter 14, Resurrection, City Hospital Myth)." Remy thinks these black crystals might hold the secret to increasing Mom's crystal count, but Pants, locked away from his family and unaware of the severity of Mom's illness, uses the crystals in a different way: he ingests them to prompt hallucinations that help him escape the indignities of prison life.