Carlo Matos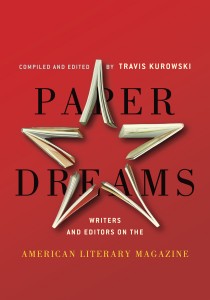 Paper Dreams: Writers and Editors on the American Literary Magazine
Edited by Travis Kurowski
Atticus Books, August 2013
432 pages / $29.95  Buy from Atticus Books or Amazon
In 1891, Henrik Ibsen's Ghosts set off one of the most dazzling and hilarious newspaper battles in the history of London theater. From just two private performances, the play garnered over 500 printed editorials, responses, and reviews, catapulting it into instant infamy and consequently playing a part in moving English theater a few steps closer to full-fledged theatrical modernism. Ibsen's play is only one example of the inverse relationship between aesthetic influence and commercial success that seems to be part and parcel of much modernist art. The literary magazine is, of course, no exception. In Paper Dreams, a new anthology from Atticus Books, Eric Staley echoes this sentiment when he says that "the best the literary magazine can hope to achieve is influence out of proportion to circulation."
Paper Dreams recounts over a century of literary magazine history in the United States through primary and secondary sources, ranging from editorial pronouncements by Ezra Pound (a nearly ubiquitous editorial presence early in the 20th century) to the savvy branding strategies of George Plimpton (The Paris Review's luminous impresario) and beyond to the current renaissance of literary journals flourishing on the internet like PANK, Brevity, and The Rumpus. The aim of the anthology is, as editor Travis Kurowski puts it, to trace "the backbone and the outer rings of American literature." Kurowski—a creative writing and publishing teacher at York College of Pennsylvania—began the project back in 2008 for The Mississippi Review and continued to research the topic because he wanted to, as he says in an interview, combat his ignorance on the subject. Paper Dreams certainly made me come face-to-face with my own.
Although there are so many wonderful pieces that deserve comment, my particular favorites are the ones that do some much-needed historical re-visioning. Jayne Marek's "Making Their Ways: Women Editors of 'Little' Magazines" and Linda Lappin's "Jane Heap and Her Circle" work to reclaim the editorial reputations of Margaret Anderson and Jane Heap of the Little Review. Marek states, "[I]t is clear that women had far more to do with the support and evolution of modernism than has been generally acknowledged." And Abby Arthur Johnson's article, "Forgotten Pages: Black Literary Magazines in the 1920s" reintroduces the reader to important black periodicals like the Saturday Evening Quill, Black Opals, Stylus (which produced Zora Neal Hurston), and Harlem and Fire (both which included Langston Hughes as a founding member).
In terms of the contemporary moment, the 2008 roundtable on the literary magazine was the most compelling. On the one hand, it revealed that not too much has changed in the last century. Editors still want to discover new talent, still hope to find that next great voice and all while dealing with perpetual money woes. They also continue to worry that there are too many journals and too few readers. As Algernon de Vivier Tassin said in 1916, "However barren were some departments of literature in the early days . . . magazines indicated at the outset their eternal disposition to multiply faster than the traffic will stand." On the other hand, some things have indeed changed—the Internet, of course, being the most obvious. The distributive powers of the Internet are truly staggering; however, its ability to generate "noise" is equally awe-inspiring. Jill Allyn Rosser has the most interesting thing to say about the role of the literary magazine in our electronic age: "I don't think that really happens anymore—the salon—and the magazine has become a replacement for that." I am not sure if that is the case, but I want it to be true.
Comments Off

on Paper Dreams: Writers and Editors on the American Literary Magazine
September 6th, 2013 / 11:00 am