Chad Campbell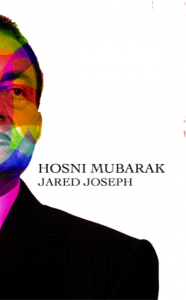 Hosni Mubarak
by Jared Joseph
Persistent Editions, June 2013
35 pages / $8  Buy from Persistent Editions
Hosni Mubarak is author Jared Joseph's second chapbook of poetry, and Persistent Editions' inaugural publication. Mubarak's lyric-challenging poetic establishes Joseph and Persistent Editions as poet and press to be followed.
What strikes first about this collection is its cover: a photo of Mubarak from the shoulders up, his faced streaked in neon reds, yellows, and blues. We know straight off that we are in potentially provocative territory. When the critical reaction to Carolyn Forche's The Colonel remains today as a reminder not to vacation in the suffering of others, it might seem that a book – written by an American – that takes the name of a deposed Egyptian president might be waiting for the same charges to be levied against it. Not so. What we have here is a different entity entirely.
Here, the emotional counterparts (see: apathy, detachment, disillusionment) to Western media-era remove from world events are not elided; instead they provide the bridges that Joseph uses to write into his encounters with "Mubarak". Yet Joseph is able to do this without twisting the work to become pedantic – there is no claim to a better perspective, no call for empathy or action other than what might be suggested by its lack. Joseph moves in and out of autobiographical modes through the eyes of this imaginary Mubarak: these qualities are explored in Mubarak, and in the speaker inside Mubarak. This is not a convenient mirror in which to better see ourselves – this is the light across it, the shimmer of something just behind our shoulders, and the language is its play.
The voice of Joseph's Mubarak is at once erudite and childlike: language not used exactly, but capably, as if itself exempt from a pressure to be dutiful – it phrases the world as it pleases. The speaker shifts fluidly, almost arrogantly, between lexicons: the scientist's, the politician's, a young man's – shifting code and binding vocabularies together, and in the process enacting a wild sense of entitlement:
It gave so easily, there must have been
a tension reservoir of air, something requiring the first exhale-
ation, I don't really understand natural laws. Anyways, just
one finger needed to fire empty the casing.