Commuting: Have gone to Ithaca – Frank Quitely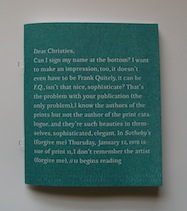 Commuting: Have gone to Ithaca – Frank Quitely
by Jared Joseph
TRNSFR / Varmint Armature Press, 2012
40 pages / $6  Buy from TRNSFR
This is a review of Commuting: Have gone to Ithaca – Frank Quitely by Jared Joseph, which is the third Chapbook from Alban Fischer and TRNSFR's newish book arm Varmint Armature Press.
[Watch the Book Trailer here: Commuting: Have Gone to Ithaca. -Frank Quitely]
The title introduces the collection as a persona poem. Frank Quitely is the narrator. Frank Quitely is the clever inversion of "Quite Frankly". The Frank of this work emerges in the title as a person making the journey to work. Frank is commuting to Mythical Ithaca. Everyone needs a commute, and Frank is no different. Frank Quitely is or wants to be the author of print catalogues for auction houses dealing in art like Sotheby's and Christie's. In the cover letter that opens the collection Frank asks Christie's for some recognition as the one "who has wroughted". This author character Frank is conflated and conflicted with the identity of the Jared Joseph, whose name intrudes upon the world of Frank in moments of Frankness or weakness. In Frank's despair the world of the print catalogue collapses, and he wonders whether or not there are catalogues or prints inside them or if these are "just" poems or epigraphs to imagined pictures.