Contrapposto Action Queen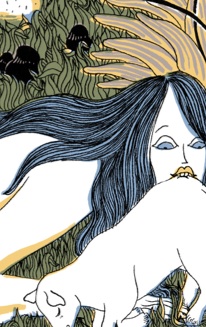 Contrapposto Action Queen
by Connie Scozzaro
Bad Press, 2013
$9 / Buy from Bad Press
Before I'd ordered the book, I listened to Scozzaro read "What Is Parents?" on the Claudius App and fell in love with the poem. I listened to it the way an eight year old listens to Beatles' songs. I'd drag my partner in to listen to it and tried to dub the poem to a mix tape but it didn't survive the transfer. "Isn't this just the best?" I'd say, jumping up and down as Scozzaro read in a brave and insistent voice.
"What Is Parents?" is one of the more elegant ones. Her verses make adept shifts from a naïve diction to classy Rimbaud/Swinburne-esque lyricism. I like the tension between the vague, the true, and the fantastic in "What Is Parents?"
After this good work with something not mine,
I come home to you, we feed each other and laugh. I love you,
especially when we fuck really well, but probably
we fuck really well because I love you so much.
In the heart of the grass, a fountain rushes,
blood in the shape of a rose. For seconds
I understand birth, and the Incredible String Band
play their instruments
well. What is parents?
What are dreams?
These poems, and this poem, consider everyday ritual and material limitation, but also seem to mediate banal domestic desperation through an intensely personal kind of verse. In my reading, I like to think that the poems are able to capture the boundary between boredom and fetishization.
Contrapposto Action Queen is eight longish poems long. These poems are exhausting in the best way. Reading them I'm too full of ideas. The collection is so full of colliding images, unresolvable emotional states, and shifts in diction. Scozzaro is very good at eloquent and cool verse that isn't afraid to betray itself with urgent brattyness. Her poems are exciting because they seem to constantly shift, from image to image, from the exact to the vague, as they unfold. From "Elena, Whatever: You Are But Dreaming"
Suitors buy her roses, or posies, which upon inspection,
are but mauve, petals trembling pools,
obscuring heaving shoulders on ahead.
Two or three swoon from daily collapse, this way and
that, to be in another world, to know
how to use your hands.

Write what pleases you, what displeases me,
black liver wobbles out the drain,
dragging itself on a few gross legs.
You are the hero of the bathroom mould,
blocked drain, streams of tangled hair,
you squirt, we get deposit back.
Comments Off

on Contrapposto Action Queen by Connie Scozzaro
July 18th, 2014 / 10:00 am