HTMLGIANT / Eric Lindley
Janice Lee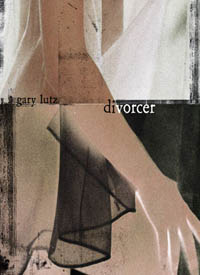 Divorcer
By Gary Lutz
Calamari Press, 2011
120 pages / $13  Buy from SPD
It's no wonder that someone who might be said to live in the sentence would apply its logic—and its subversions—to his lens on the higher-order structures of life. In Divorcer, Gary Lutz tinkers with each level of human-linguistic interaction, cascading from social power structures, to family dynamics, personal relationships, full-scale utterances, isolated sentences, words, morphemes and phonemes, with an eye to at-once humorous and devastating exposure of the failures of empathy and failures of semantic coherence echoing throughout.
READ MORE >
Reviews
/
9 Comments
September 12th, 2011 / 12:00 pm
Janice Lee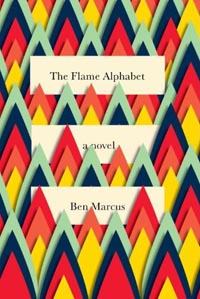 The Flame Alphabet
by Ben Marcus
Knopf, Jan 2012
304 pages / $26  Buy from Amazon
Ben Marcus wrote this book, which is to say he either typed it into a computer or used a stylus, pen or pencil to scratch pigment into a page or roll of paper—the tools available to us humans at our particular anchor in time.* He did this in roughly a year, after developing the concept: a man—through his own somewhat distorted lens on reality—relates his recent experiences in a world wherein language, spoken and written, is discovered to harm its producers and recipients. I will try not to ruin it for you, but the inhabitants of this world eventually determine that the formation of meaning itself—the moment of insight, in which the gestalt of the lexeme coalesces in the mind of the listener/reader—is the problem; i.e. when you understand a word, you become sick: and more words, more understanding makes you sicker.
Reviews
/
14 Comments
August 29th, 2011 / 12:00 pm
Janice Lee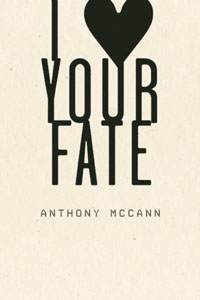 I Heart Your Fate
by Anthony McCann
Wave Books, 2011
96 pages / $16  Buy from Amazon, Wave Books
A review of I <3 Your Fate, I [heart] Your Fate, or I [love] Your Fate, or, truly, the way your cognition's filter makes you read it, maybe only when you look at the book, but maybe when you think of it, too, picturing the playful, blackbled type on the cover, I [hate] yr Fate, because the pull of the rhyme is stronger than the sound of the tongue-in-cheek, cardiod stain.
Reviews
/
6 Comments
August 12th, 2011 / 12:00 pm