George Anderson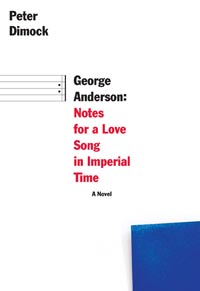 George Anderson: Notes for a Love Song in Imperial Time
by Peter Dimock
Dalkey Archive Press, Forthcoming February 5, 2013
158 pages / $11.20  Preorder from Dalkey Archive
In 1998 Dalkey Archive Press published a slender volume with the title A Short Rhetoric for Leaving the Family. This novel joined the list of new fiction at Dalkey that has quietly developed a reputation for publishing works of significant literary value rather than commercial prospects. Indeed, when the late John Leonard reviewed the novel in The Nation, he commented that it had been brought out "almost secretly," words that surely disconcerted Dalkey's publisher John O'Brien whose promotional budget must be infinitesimal when compared to that of Random House or HarperCollins.
A Short Rhetoric for Leaving the Family was the first novel by Peter Dimock, a highly respected editor in New York who was at the time working as editor and director of academic marketing for Random House. Dimock is a veteran of Sonny Mehta's regime at Random and a long-time friend and associate of Toni Morrison, whom he accompanied to Stockholm in 1993, but Dimock is still otherwise unknown beyond a small circle within New York's literary establishment.
These days Dimock is working as a freelance developmental book editor and as editor of an online journal on the social implications of contemporary finance titled Rethinking Capitalism. (The journal attempts to foster communication between academics and financial professionals on the social creation of value and the market culture of global finance.) This is a far cry from Dimock's origins as a student of American History and his own literary inheritance as the son of the classical scholar George Dimock, Jr. who, in the 1950's, published an article in The Hudson Review titled "The Name of Odysseus" that had a wide impact upon Homeric and literary scholars.
Looking back after a dozen years at Dimock's first work of fiction, those who read it can still marvel at the uniqueness of the book. The novel purports to be a letter from the disgraced son of a powerful American family (a son whose sanity and capacity to live without supervision have been questioned) to two nephews during their childhood and promising the distribution of substantial monies when each reaches his majority. The narrator's father has been a principal architect of the Vietnam War, and the narrator, Jarlath Lanham, resisted that war by the means his class and privileged upbringing afforded him. Jarlath's older brother, out of loyalty to his father, served in combat in Vietnam and has returned with unaddressed psychological trauma.