In The House Upon The Dirt Between The Lake And The Woods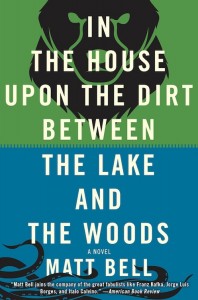 In The House Upon The Dirt Between The Lake And The Woods
by Matt Bell
Soho Press, June 2013
312 pages / $15.27-25  Preorder from Amazon or Soho Press
It's too easy to describe Matt Bell's work as mythic. A lot about it is, but what makes it such a valuable addition to the field of stuff you can read is not just the way it draws from and modernizes mythic structures, but the way it burns through those structures to touch the awe and terror that gave rise to them. In The House Upon The Dirt Between The Lake And The Woods, his phenomenal debut novel, tells a story about barrenness and fertility that is also a story about the fight to heave off the expectations and limitations of mythic storytelling.
Bell writes with the leisurely flow of an oral epic, and his unnamed, communally defined characters ("my wife," "our false son") have as much lineage in ancient Greece and Scandinavia as they do in contemporary America, but instead of aspiring to the oral epic's universal openness, In The House aspires to its own brand of claustrophobic intimacy. The narrator speaks like a bard but his story is his own, his voice unmistakably first-person.
This story is filled with quests, labyrinths, and totem animals, taking its shape partly from Orpheus (a husband seeks his wife along a seemingly never-ending downward path), and partly from Faust (this man fends off invitations to cowardice offered by a devilish miscarried boy living in his guts), but it strips these familiar elements of their cultural baggage and moral agendas. Free of what's boring and overdetermined about them, they start to feel a lot stranger and more dangerous.