IQ84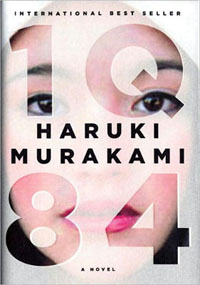 IQ84
by Haruki Murakami
Knopf, 2011.
944 pages / $30.50  Buy from Amazon
One
Please do not read this or any other review if you intend to read IQ84. A Murakami novel is best read without knowledge of its plot.
Few books are about life itself.
Part of the reason we live is to see what happens next. Will we go to college? Go on a road trip? Whom will we marry? When? Will we have children? Will we move? Will we get that job? Meet eyes with a girl who reminds us of someone we once knew? What will we have for dinner?
IQ84 is alive with its own life. Start from the beginning and see what happens next. The less you know, the more fun the discovery will be. All you need to know is this:
The book takes place in Tokyo. There are two main characters, Tengo and Aomame. You must bring to this book your own preconceptions about everything—God, existence, love, morality—not mine or anyone else's. Your reading will be your own.
Your wrists may hurt as you read—the novel is almost 1000 pages. It's a heavy tome because it's a whole universe. The pain in your wrists will be worth the wormhole.
Now get out of here.