Jensen Beach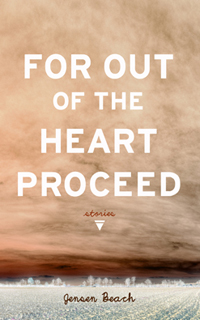 For Out of the Heart Proceed
by Jensen Beach
Dark Sky Books, 2012
120 pages / $12.00  Buy from Dark Sky Books or SPD
The twenty-two stories in Jensen Beach's debut collection, For Out of the Heart Proceed, center on family and in particular father and son relationships. The collection is peopled with troubled characters struggling to make sense of their circumstances, choices, and connection to others. What is perhaps most compelling about these stories are the interesting and memorable ways the characters grapple with issues of faith: Faith in themselves, others, the world, and the divine. There is great efficiency to Beach's prose and a precise order to this collection that juxtaposes the disturbances and sometimes chaos of these characters' lives, conflicted characters often controlled by fear.
For Out of the Heart Proceed contains three Parts linked by how its men do, and sometimes don't, transcend their fears and difficult situations. In the first story, "Training Exercise," a father and young son must brave the dark and what appears to be a menacing, male stranger in their back garden:
The [lion] flashlight keeps growling and the man keeps growling back and the lion's plastic teeth are casting a weird silhouette on the man's face. We're all stuck there, locked, more or less, in what's looking to me to shape up like a battle of wills.