HTMLGIANT / Jessica Comola
Janice Lee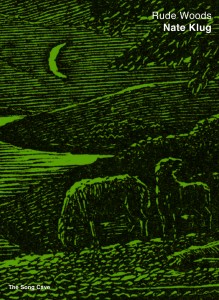 Rude Woods
by Nate Klug
The Song Cave, 2013
76 pages /  $17.95  Buy from The Song Cave or SPD
In his Deformation Zone, Johannes Goransson writes of the nature of translation saying in the process of rewriting a text "the 'meaning' may have been 'lost' but the materiality of the text is brought to life." Nate Klug, in his latest book Rude Woods (The Song Cave, 2013), embodies this type of translation at its most intriguing and productive. Eschewing the constraints of a strictly "faithful" translation in favor of a more multifaceted dialogue with Virgil's Eclogues, Klug himself becomes one of the lyrical shepherds he invokes as he responds to the Eclogues which are themselves, he writes, "poems about responding—listening, picking out, and answering back the pleasures of song."  Klug's brief examination of each of Virgil's original ten eclogues offers a contemporary take on the pastoral tradition that brings to life both Virgil's lyric refinement and dynamic content.
Most refreshingly, these are not your mamma's frilly little nature poems. The pastoral as an idyllic scene is revealed as artifice; in its place the earth as complex, fraught, psychic landscape is shaped. Here, Virgil-via-Klug becomes a sensual experience in the most dynamic way as it invites readers into physical observation of and participation in the environment while invoking, as W.R. Johnson states in the forward, a "severe concentration on emotion [that] determines these poems' unique form." Take a moment to experience the following lines:
from "A Hymn to Prophecy" (from Eclogue IV):
"wool will never have to dye: for the rams / will trick their fleeces, from boiled-saffron-yellow / to the deep purple produced by shellfish juice."
or from "Against Epic" (from Eclogue VI):
"even this young orb called earth, / spinning dry, hardening, until things slowly / owned their own forms."
or, lastly, from "Two Longer Love-Songs" (from Eclogue VIII):
"I saw you once and was lost. / Something wrong and warm carried me off."
What we get here are emotion-driven images, but they are not grounded in the typical poetic gesture "I emote therefore my poems have gravity." Instead, they are vivified by the transformative power of sensual detail. Not only are "wool" and the "earth" and the "you" brought to life for us as readers through the uniqueness of their portrayal, but the portrayal itself is metamorphosing—"Right there in the field, grazing lambs will go red" (from "A Hymn to Prophecy").
But I must admit initial skepticism. A moment of strong lyricism will get my attention but often for the wrong reasons. The lyric, as many writers and readers know, has a tendency to overindulge. An emotive, senses-based series of poems about love and loss and shepherds singing in a flowery pasture could be a hotbed of disastrous pitfalls. But what Klug does well is interrogate these tropes and traditions even as his words participate in them. He creates tension by restraint—not through expected thematic or plot-drive narratives but through the imagistic and sonic qualities of the language itself.
In his translator's note, Klug refers to this quality as "the rough music I sought"; it is "rough"—and "rude" and bitter and bruised. It is also imbued with a "sweetness" and beauty that, in moments, startles with its clarity of vision. It is this complex "song" that ushers forth the unexpected, "unnatural" environment of the new pastoral, a landscape that becomes less of a tangible place of sheep and shepherds, and more of a conceptual space in which sensual experience serves as the landscape itself.
Rude Woods does at times feel burdened by these heavy underpinnings. The overarching structure of emotional registers spoken through sensual detail may feel exhausted by the end of the text. Yet Klug makes brilliant self-referential moves to address the process of finding balance in these lines. On the whole, he takes his own advice (via Virgil) to maintain a fascinating lightness, an ethereal quality, that he writes of in "Against Epic":
"A shepherd should keep the flock fat but his lines refined, like exquisite thread."
There is indeed a threadlike fragility to these poems; there is also, to continue this metaphor, a strength in how tightly woven the poems are through their imagistic and sonic complexity. Though there are moments when the translation may feel too heavy handed, Johnson is right when he notes, "most translations of the Eclogues attempt to reflect the original's intricate language with some variety of high style. . . Klug has devised a conversational idiom that relies on spare diction and spare syntax, on a pure clarity of sight and sound to give us superb poems that give Virgil's pure lyricism a genuine 'answering form.'"
By the close of the text, we have been privy to a complex and dynamic series of contemporary translations that pay homage to Virgil's intentions while reaching interestingly beyond the bounds of the tradition from which they arise. As the prophet-poet rightly tells us in "A Hymn of Prophecy":
"It's here, the beginning, or the end of everything, / as the Sibyll has sung; time for the great order / to start over . . . the insurgence of a new kind of human being."
***
Jessica Comola is an MFA candidate at the University of Mississippi where she serves as poetry editor for the Yalobusha Review. Her work has appeared or is forthcoming in Anti-, Redivider, and Everyday Genius, among others.
Reviews
/
No Comments
November 8th, 2013 / 11:00 am
Janice Lee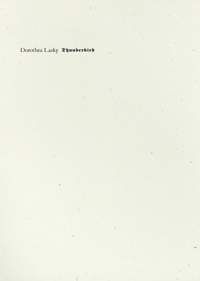 Thunderbird
by Dorothea Lasky
Wave Books, October 2012
128 pages / $16  Buy from Wave Books or SPD
Dorothea Lasky's third poetry collection, Thunderbird, begins with the lines "Baby of air / You rose into the mystical / Side of things"—which immediately prompted me to hum Van Morrison's "Into the Mystic." It wasn't a great start to reading this book, but what I realized was that it wasn't the word "mystical" that brought a song to mind so much as it was the lyricism of Lasky's writing. As I hummed on, I recognized that the language of "Baby of Air" works through patterns, creating emotion tenor through lines that build on each other. A few lines later, Lasky writes, "People cannot keep air in / I blow air in / I cannot keep it in." These lines are not typical, flowing lyrics packed with sound play, but are instead a series of seemingly simple phrases that amass meaning through repetition. At times, Lasky's lyricism even has a blues-like effect in lines like "O you are already there / O you are already there / My brother tells me, you are already there." Even in this opening piece, poetic lyricism and song come together to form both voice and emotional resonance to carry the reader through the rest of the collection.
However, Lasky's language does not end at simple repetition. Mixed with this lyric quality (and sometimes at odds with it) are straightforward statements that strike the reader through their baring of the intimate. At times, this approach takes on the negative association of confessionalism—the self-indulgent statement of personal emotion that shuts out the reader—however, at Lasky's best she filters this private emotion through straightforward statement, creating for the reader a realistic portrayal of human (universal) feeling.
Reviews
/
No Comments
December 21st, 2012 / 12:00 pm
Janice Lee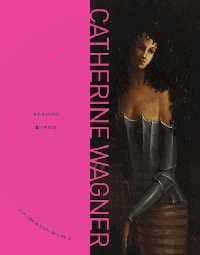 Nervous Device
by Catherine Wagner
City Lights Publishers, October 2012
City Lights Spotlight Series No. 8
73 pages / $13.95  Buy from City Lights  or SPD
I've had a copy of Catherine Wagner's latest collection, Nervous Device, for three days and already it's beat up, pages are folded and scribbled over, and the whole book is bent in half (the result of a heavy bashing I gave it against the side of my desk). Many of my most-loved books end up looking similarly destroyed, but the physical damage I've done to Nervous Device stems from a different impulse—what I can only call frustration.
So why am I frustrated with this unassuming, 73-page collection, particularly since I've been a Wagner fan since her first book, Miss America, came out in 2001? It's because I don't know how to find coherence in this collection and yet—here's the frustration—I can't stop reading it.
When I begin a new book of poetry I don't look for cohesion of any particular kind, nor do I think all collections need to, or benefit from, coherence. However, in reading Nervous Device I felt that I was missing some critical structure that created a through-line in the book. I kept asking, why these poems? How is this a collection?
Then I realized maybe that was the point—Wagner isn't interested in packaging the poems for us—we must do this ourselves. In an interview with Elizabeth Coleman at Art Animal (September 2012), Wagner speaks of her own concern with these poems, saying "'I worry that in this book I've tried to be smart in some places because publishing with City Lights felt like a big deal…That's a deadly thing—the wish to appear smart'" [full interview here]. I immediately stopped reading the interview, re-read Nervous Device, and realized I was trying to force a larger structure on the book when what I needed to be doing was enjoying it because of its language, poem by poem.
Reviews
/
1 Comment
November 26th, 2012 / 12:00 pm
Janice Lee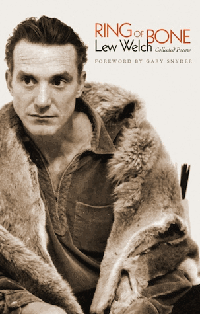 Ring of Bone: Collected Poems
by Lew Welch, Ed. Donald Allen
Forword by Gary Snyder
City Lights Publishers, June 2012
252 pages / $17.95  Buy from City Lights

Lew Welch's collection, Ring of Bone, is more of an artist's assemblage than a simple book of poems. This new and expanded edition by City Lights Press encompasses Welch's poetry, music, drawings and critical writings, providing fans with a definitive edition of the poet's long-lost works, and new readers with an expansive sample of his writing.
As Gary Snyder's forword tells us, Welch was a little-known 60's generation poet who was living with Snyder temporarily while building a cabin on Ginsburg's adjoining land, when, on May 23, 1971, Welch hiked into the Sierra Nevada Mountains carrying a revolver. A suicide note, indicating a deep depression, was all that was ever found, but the mystery of this final day has made Welch somewhat of a cult figure. Fortunately, Ring of Bone, brings together Welch's unfinished writings, providing readers with a remarkable set of poems without dramatizing the events surrounding Welch's death.
This newly released collection is arranged into five books and a set of uncollected writings, which follow a loose chronology. However, unlike many collected works, the order of the poems is not the focus. By nature of their visionary quality, these poems form a world of dreams and nightmares so convincingly that strict organization proves ultimately unnecessary. Instead, the poems speak to each other across time through their musical tonalities and recurring thematic tensions, thus constructing one of many "rings" invoked by the book's title.
Reviews
/
4 Comments
July 30th, 2012 / 12:00 pm