Kaleidoscopic Omniscience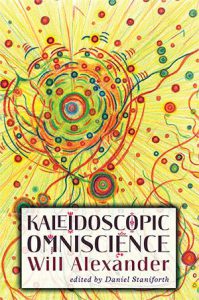 Kaleidoscopic Omniscience
by Will Alexander
Skylight Press, 2013
274 pages / $21.99  Buy from Amazon or Skylight Press
What is in essence a collected early works Kaleidoscopic Omniscience gathers together Will Alexander's early collections Asia & Haiti and The Stratospheric Canticles along with a long-promised but never published collection of shorter poems Impulse & Nothingness.
Vermillion shades of astral haunts abound as Alexander takes his readers through a psychedelic romp that leaves the consciousness reeling. There's nothing usual about Alexander's visionary take on history: the contemporary, the ancient, and the yet-to-be-possible-yet-possibly-not all come together simultaneously happening in the immediate now of his poems. Welcome to the sci-fi gothic splendor that is Alexander's forte.
This is news from the beyond gathered by a shamanic visionary. Spun from out his psycho-imaginative journeys through previously unheard realms of existence. All grounded within his particular chthonic as well as vatic orders. He's listening to frequencies to which few others are privy. (Too few others.) The messages conveyed by his poems are imbedded beneath soaring tonalities and scattered throughout lines with cryptic zeal.
Both "Asia" & "Haiti" are epic in scope. The ghosts of silenced communities spanning a global axis of oppression and denied freedom are given voice. The poems from beginning to end are one long address.
"we
the once green wings of magical Tibet
accused by the Maoists
by the exterior flames of ideology & assault"
("Asia")
And
"it is we who speak
with a sun of splinters spewing from our heart
from our thorax burning with intestinal moray explosion
we
the Africa of Songhai & Mali
we
of original reptile wisdom
we
the first gatherers of wool
through sun
through apertures spinning
in a ruptured lightning gorge"
("Haiti")
The spirits of "Asia" announce "we've emerged / with our murmurs" carrying their stories into the public address of the poem.
"we
the old fiery Lamas from the ocean
from the great green thrones of infinity"