knut knudson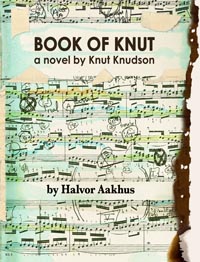 BOOK OF KNUT: A NOVEL BY KNUT KNUDSON
by Halvor Aakhus
Jaded Ibis Press, Forthcoming Fall 2012
270 pages / Buy BW Version ($10-12) or Color Version ($28-33) from Jaded Ibis Press
I recently inhaled Halvor Aakhus's BOOK OF KNUT: A NOVEL BY KNUT KNUDSON, and admittedly—considering the galleys I received are technically in PDF form and I simply couldn't help myself—I also began by listening to that DJ Exotic Sage Presents: Blood Orange Home Recordings Mixtape and watching Jiri Barta's 'The Club of the Laid Off,' and interestingly enough had no real problem paying proper attention to the book; it's that fucking hilarious.
I sat on my couch letting my focus shift more and more into the novel, letting each corresponding media fall ever quieter as I tore deeper into the strange tale of a mathematician reading through the aptly-named Book of her now-deceased former-lover (he left her for her mother, as I understood it) Knut Knudson; and with every passing page I'd belt out another howl of laughter at the sheer brilliance and magnitude of this absolutely fucking insane narrative.
The actual book—Book—for all its strangeness and insane devotion to detail, is equally as enticing and, I daresay sentimental involving characters like Johnny Potseed, a guy who's walked around the town of Napoleon, Indiana for 10-plus years throwing potseeds "to no avail…thus far," and a fired mathematician (representing the cuckolded daughter's cuckolding mother) named Slob—Slobodon—who organizes a late-night Christmas Tree planting to spite the university from which he's been fired. The entire scene essentially thriving on minute details in weather and each participant's academic pursuits, and ever-present cans of Keystone. Other irreplaceable namesakes include Mop, and Wolfer. This dude (who, by the way, looks like a Norwegian metal head that just walked off the set of Deliverance) is definitely onto something.