Matias Viegener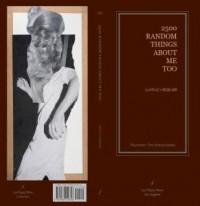 2500 Random Things About Me Too
by Matias Viegener
Les Figues Press, 2012
246 pages / $15.00 buy from Les Figues Press
Rating: 9.0
For us it is so normal to see the clouds from above, and inside.
— section xxxix, line 12
By extrapolating the popular Facebook meme, 25 Random things about me, duration generates gravity in Matias Viegener's 2500 Random Things About Me Too (Les Figues Press, 2012), blowing aloft a cloud of identity–a portrait of the artist's wandering consciousness. Viegner's sequence of anecdotal strands, aphorisms, autobiographical trills, and questions both large and small are keenly paced; fragments hang alone indefinitely while others pick back up a few lines down or pages away, forming themes that resonate in opp- and apposition throughout the work. This deceptively loose push-and-pull provides much of the work's excitement as associations spark, link with others and hover or hang solitary and pleasantly naked.
Here's an example from the text, titular and relatively contained: