Max Beckmann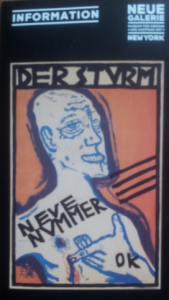 Last Saturday I went all the way uptown to Neue Galerie to see the first American exhibition on the topic of "Degenerate Art," which will be available through June 30, 2014.  One of my favorite subjects during my ultra-brief academic career (aka "undergrad") was the exploration of the factors that made the transition from the Weimar Republic to the Third Reich possible. Above all other realms, that of culture was the one that appealed to me the most in my studying of how the German people were capable of gradually dehumanizing "non-Germans," and to what extent this process was a political construct smoothly created by the Nazis. Reactively responding to German people's despair and economic insecurity, Nazis built an ideology that made it possible for Germans to replace fear with hate for anything different. I am still fascinated by the institutional curating of art performed by the government, and what it translated to in political terms to have government authorities declare the validity of certain art, while condemning the existence of other art.
Maybe you should go see it if you feel like it and happen to be in New York, even if the security staff is  unnecessarily rude. Especially if you are not familiar with what was presented as "Degenerate Art" and how it became a key tool in spreading Nazi propaganda.
My favorite thing about the Neue Galerie exhibit was the curatorial decision to dedicate the lower level part of the exhibition to a mourning ritual. Specifically, the curatorial team conveyed a sense of cultural loss by presenting empty frames in the place of artwork that was intentionally destroyed by  Joseph Goebbels' Commission for Disposal of Products of Degenerate Art, the government body responsible to preserve the German identity.  An inventory which chronicles the status of what was labeled "Degenerate"  can be also found downstairs, listing more than 16,000 artworks the Goebbel Commission would destroy, exchange or sell.