My Bright Abyss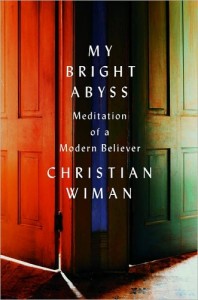 My Bright Abyss: Mediation of a Modern Believer
by Christian Wiman
Farrar, Straus and Giroux, April 2013
192 pages / $24  Buy from Amazon
"Silence is the language of faith" we read in Christian Wiman's newest book of prose, My Bright Abyss: Meditation of a Modern Believer. This seems counter-intuitive (or perhaps even hyperbolic) coming from a poet, especially a poet of faith, but he explains, "action—be it church or charity, politics or poetry—is the translation. As with any translation, action is a mere echo of its original, inevitably faded and distorted, especially as it moves farther from its source."
Christian Wiman is the current editor of Poetry magazine (though he announced his resignation in January), the author of several books of poems, including the recent and widely acclaimed Every Riven Thing and a new translation of Osip Mandelstam's poems called Stolen Air, and another book of prose, Ambition and Survival: Becoming a Poet. Wiman is also one of the most important voices today on the confluence of art, especially poetry, and faith. In fact, the two are so ambiguously implicated, so crucially intimate, he rarely writes or discusses one without the other.
In the preface of this stunning new book of prose, Wiman explains he wrote it for those "frustrated with the language and forms of contemporary American religion, [but who] nevertheless feel that burn of being that drives us out of ourselves, that insistent, persistent gravity of the ghost called God." I think we will find, then, his intended audience is vastly comprised and includes many of us, for the synaptic tangle of spirituality in America is still, to use Wiman's word, burning. It seems wherever I go I encounter those dissatisfied with the way we talk, not only about art, its role in our entertainment-consuming culture, but spirituality too; as what it means to believe becomes more and more nebulous, our language becomes more and more reductive. Americans are frustrated with the way language has been abused, consumed, violated.
It seems we are at a loss for words.
Maybe it's that the interiority of our lives seems so abstracted from the language used to describe it. But then, isn't that why we've always turned to poetry? The anxiety of limitation, this constant—however subtle—desire for transcendence, is as present in art as it is in faith, we learn from Wiman. The first essay in My Bright Abyss, the title essay, opens with an unfinished poem:
My God my bright abyss
into which all my longing will not go
once more I come to the edge of all I know
and believing nothing believe this: