On Being Blue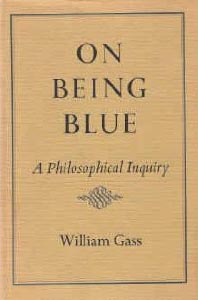 On Being Blue: A Philosophical Inquiry
by William Gass
D. R. Godine, 1975 / 1991
91 pages / Buy from Amazon (1975 ed / 1991 ed)
Monday is a good day to think about William Gass's On Being Blue because Mondays often are. The color blue, Gass's muse, is, in this slim book, organized, discussed, described, pondered, and psychoanalyzed; the first page is a list of just a few things that could be blue—stockings, movies, laws—and the last page is a fading away, these wild words all we have left, as  "everything is gray." From blue to gray to yellow and green and wherever in between, On Being Blue is a hopscotch around the rainbow. It infects you with synesthesia. There's the "disapproving purse to pink", "violet's rapid sexual shudder," and "the rolled-down sound in brown." There are also lots of curse words and fucking.
(Some form of the word blue appears 412 times, according to my count.)
Not only fucking, there's also "ficking," "facking," and "focking." Blue is the color of obscenity-laced literature and balls. It's a portal into the sexual, a catch-all color that captures the deliciously libertine, our deviant wants and protruding desires that in fiction are titillations of the imagination provoked through language. Gass turns sex into linguistic gymnastics, so he fascinates us with "not lips and nipples, but nouns and verbs." Beautiful language is, to Gass, a great aphrodisiac. He quotes verse by Sir John Suckling and a scene from The Lime Twig. He pokes around Gertrude Stein's Tender Buttons.