Paul Klinger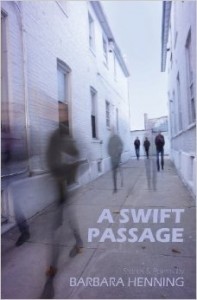 A Swift Passage
by Barbara Henning
Quale Press LLC, Nov 2013
144 pages / $16  Buy from Amazon or SPD
the mind is action literally, not departing from that—being
events or movement outside, which is inside, so the mind is collapsing
into and as action — I can't rest, at all now.
— Leslie Scalapino, "New Time"
Barbara Henning is restless. She writes poems, novels, artist's books. She travels. She lives on other continents. She is a New Yorker. Sometimes she is not a New Yorker. She documents the hegiras of others. She documents her own migrations. She confronts immigration, access to health care, gun violence, munitions manufacturing, genocide, basically, everything on the evening news. She is a tribal member of the Cass Corridor, a yoga instructor, a professor of creative writing, a member of Bella Donna, a Feminist Elder, and a superb photographer.
Her new book, A Swift Passage, is published by Quale Press. The title is misleading in terms of the book's legibility; there's nothing swift or ephemeral taking place here. What unfolds is a conglomerate of prose experiments and procedures, all girded by a rugged adherence to a writing regimen itself imbued with the gravitas of a ventilator (dramatic, but true).
When reading through Henning's ouvre, the idea that recurs most often is travel (to paraphrase Leslie Scalapino, the kind of travel that jettisons mind and body). Traveling through writers:  Hawthorne, Bronte, Olson, Di Prima, Norma Cole, Bernadette Mayer, Harryette Mullen, Dylan Thomas, Laynie Browne, Akilah Oliver. In this as well as Henning's other books, it becomes Apparent that this writer loves Writers beyond what is reasonable. She possesses that rarest of qualities: boundless curiosity in the work of other poets. She mentors young poets, remembers the old ones, and continually interviews writers and introduces their work in places where it is sorely needed. She is constantly traveling through the works of others and in demonstrating that travel, simultaneously produces creative work while pointing outward to the work of others.
Of course there are as many Places in Henning's travels as there are writers: Detroit, Tucson,  Pennsylvania, New York, Vegas, Afghanistan, Mysore, and Seattle. The first few sections of the book shift scene so much that the sentiment and observations feel touristy in their snapshot quality. In these moments,  that New York sense of "where's the rest of culture?" pops out. Particularly distressing are some remarks about the dearth of "poetic culture" in Texas, a fact which puzzles me as a poet living in a large city in Texas (H-town) whose poetic culture is thriving and disjointed and safely beyond the university's control (end of rant).
Near its middle, the book surges into Henning's compelling documentation of a woman's agonizing predicament over her immigration status in "Hegira I." The choice between U.S. and Canada becomes no choice at all, but the problem is she is already in the United States. She's effectively blocked from the advantages of Canadian law unless she can escape from America. Henning beautifully underplays this irony in her handling of the narrative. In her recreation of the minute-by-minute decision making that threatens to overwhelm the story's heroine, Henning somehow manages to evoke dilemmas similar to those Harriet Beecher Stowe placed at the forefront of 19th century American consciousness. Again, freedom lies to the North. Henning's storytelling puts a face on a problem that is often herded into the abstract by the legal community. Her treatment feels like a direct response to the dehumanizing coverage that many U.S. media outlets obligatorily devote to the situation.  The spirit driving Henning's attention to her subject is undeniable.
Appropriately, Henning ends her book with The Dinner, a novella whose Subject is writing. The plain emphasis on the act of choosing words becomes the plot, a hazy sortes virgilianae with noirish elements hung over from earlier works. Often inspiringly jagged, it can quickly open into passages that rival At Swim Two Birds in associative zaniness/zoominess:
Today my narrator waves goodbye to Daedalus who is standing on the edge of the cliff cheering him on. And then he climbs back down the mountain to find his secret lover, his tenth grade teacher, Miss Ariadne. I close my computer, put it into my bag and then I wade out into a little cove in the Pacific, dive underwater, gliding and watching the schools of minnows collect and disperse.
Comments Off

on I can't afford to not record: Barbara Henning's A Swift Passage and the Experiment of Restlessness
December 13th, 2013 / 12:00 pm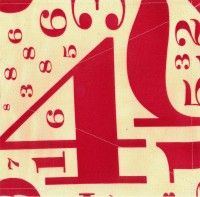 Eephus
by Kevin Varrone
Little Red Leaves, Textile Series 2012
$8 Buy from Little Red Leaves
[Begin with this.]
I did not know what a fungo was until I read Kevin Varrone's Eephus. This chapbook introduces names and facts in a way that makes you feel whomped,  but there is little flexing in all this whomping. The expertise that builds this book never feels "built up" or leering. Pause. Appreciation. Reflection: when people build up an expertise, it so often snowballs into an authority that drives off listening.  Not Varrone. Not Eephus. This poem is not a statistical rant. It's not even sports writing. It's an almanac. The best kind: the kind of almanac that comes out of Philadelphia.
Eephus sticks to the course of tumbling lyrical investigation—it's all graces and hushes and subtle goofs. The weight of a baseball (5.25 oz) gives way to meditations upon the wait of baseball, bound together as the avoirdupois of the game ("time passing is pretty much what baseball is all about"). Waiting:  for the bullpen to get warm, for the streak to end, for DiMaggio to roll over, for Ryan Howard to heal up.
The book by no means breaks in continuity from Varrone's earlier work, which has been called a Philadelphia trilogy. Pausing to ruminate over the city plans, Varrone observes that the city itself looked like a baseball diamond in its original conception.
So what's a box score?
It might be a personal cartography of the game, a language with dialects peculiar to whoever is holding that little pencil. In Varrone's case, this particular scoresheet merges into the portraiture of a city he has dedicated years to graphing. Varrone points us to a painting by Morris Kantor that sets the elevation from which the poem observes all the positions.