Pink Thunder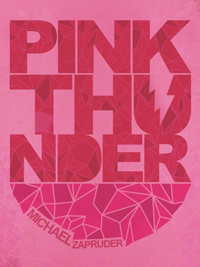 Pink Thunder
(book & CD)
by Michael Zapruder
Black Ocean, 2012
Renowned Bay Area songwriter, Michael Zapruder, has just released a highly ambitious project titled Pink Thunder, which involved him setting 22 poems (written by excellent contemporary poets including David Berman, Valzhyna Mort, Matthew Rohrer, Bob Hicok, and Noelle Kocot) to music. Beyond the straight-forward release of the musical material on pink vinyl (The Kora Records), Black Ocean has put out a hardcover book containing a CD and beautifully hand-lettered copies of the poems rendered by Arrington De Dionyso. Zapruder also created a series of what he calls "portmanteaus," small sculptural objects that function as digital music boxes that play songs from Pink Thunder. The project, which was 6 years in the making, originated with Zapruder joining the Wave Books poetry bus tour for a week, meeting and working directly with the cream of the crop of young, innovative poets. [Also see this article in the San Francisco Bay Guardian]
Full Disclosure: While I had nothing whatsoever to do with the making of this project, I have known and worked with Michael since 2004, and I wrote the introduction to the Pink Thunder book. However, I found the scope of this project to beg greater creative and cultural concerns than could be fully addressed in the introduction to the book.
***
Dear People of the Future,
With your lightning powered aggregators, your nanomembranophones, your hydrolytic isomer skin-suit apparatus, it will require an imaginative leap wider than the great San Andreas Canyon that separates The People's Republic of California from the once great nation of the "United" States to conceive of the cultural landscape in which Michael Zapruder's Pink Thunder, which I recommend you ingest via light pulse array, was created.
This is a little difficult to explain, but for a brief aberrant cycle in the history of human civilization, a violent minority of militaristic nations operated according to a spurious system based almost exclusively on the degradation of spirit via mass production and mechanized standardization, and on the pacification of the majority populace by reducing their access to education, nutritious food and health care, and increasing their access to pleasure-center stimulants. Weird, right? It's likely you've never even heard of this cycle as its ideas were surely so overwhelmingly disproven and unanimously rejected as to be expunged from the annals of history.