postcards
Michael Kimball still feels like a bit of a sleeper hit. It's not as if people aren't reading him, or discussing him, or heeding his presence in general on earth; but when you yourself pick him up and feel the various array of facial slaps he harbors in his repertoire, you can't help but think his work's been waiting around for you to discover and devour it.
Kimball's already been discussed, reviewed, and interviewed in and around the online literature sphere, so that's not what this will be. No. This is the result of one day having opened in congruence Kimball's Twitter page, and a page of blurbs re: Big Ray. His Twitter avatar is a picture of him holding a cardboard sign that reads MICHAEL KIMBALL WRITES YOUR LIFE STORY (ON A POSTCARD) in promotion of a series of posts on Kimball's blog where he writes the stories of various writer's/friend's in the space allotted by a postcard. The juxtaposition of this and the reviews of Big Ray made me realize: I want to review books on slabs of cardboard exactly like that, but weirder, maybe.
I tweeted to Kimball about the possibility (see below) and, solid dude that he is, he obliged. What follows are those reviews.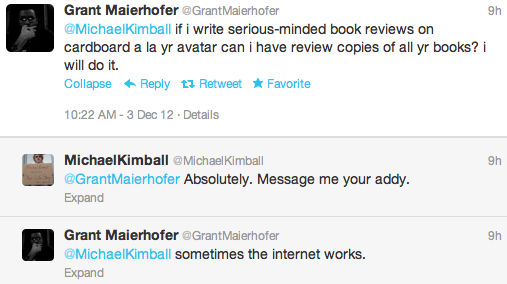 There will be two reviews, essentially; the first being a photograph of a large readable-from-a-distance review of the book without any corresponding text below. The second will be a smaller-but-still-fairly-large review of the book on the back of said cardboard with the text transcribed below.
Why the hell am I doing this? I guess from the get go I was never going to write normal reviews of anything. I'm terrible with journalism and essays have always eluded me. At best I can write a decent rant about shit I love, and this seemed an original way to describe art that I'm fond of while not getting too far outside the realm of reason.