Psycho Dream Factory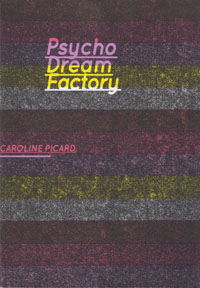 Psycho Dream Factory
by Caroline Picard
holon press, 2011
111 pgs / $20  Buy from The Paper Cave

In line at the grocery store Shiloh perches in Angelina's arms and Whitney Houston is dead. Celebrity eyelids: collated rainbows. All the flesh slick, like paper money.
      Celebrity
millions upon millions upon millions of images of Marilyn
                        Monroe:
her absence.
Psycho Dream Factory sat in a prominent area of my home for most of winter so I could see it because it's beautiful.
One page is a glossy, hot pink. On it, Mark Fisher, author of Capitalist Realism:
"If memory disorder provides a compelling analogy for the glitches in capitalist realism, the model for its smooth functioning would be dreamwork."
One morning in December I took the book off the table and brought it down to the floor. On my knees I opened it. A slip of paper tumbled out: white postcard bleating sleek, black, hyper-large:


READ MORE >