Monday, April 21st, 2014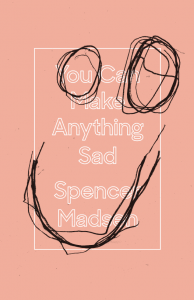 You Can Make Anything Sad
by Spencer Madsen
Publishing Genius, April 2014
90 pages / $10 Preorder from Publishing Genius
Spencer Madsen's latest book, You Can Make Anything Sad, seems to be a response to a question Spencer asks himself within the poems he writes: Who am I and what am I doing? The poems constantly shift in image, but seem to stay in a general area of themes and moods. He plays with his voice, and style, to create something that feels very much completed, while at the same time quite fragile and open. It's sincerely insincere, approaching the mundane as if it was wondrous, and the wondrous as if it was mundane.
I move back to Facebook, I type:
If you feel an aversion to me and I don't feel an aversion to
you, please don't feel an aversion to me.
I think about how my parents had hoped for more.
I think about letting them down constantly.
I think, at least I'm not a murderer.
Mostly because murderers are very ambitious.