Tessa Mellas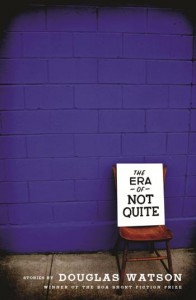 The Era of Not Quite
by Douglas Watson
BOA Editions, May 2013
160 pages / $14  Buy from Amazon or BOA Editions
What's the point of reading a book when, regardless of the book's brilliance, you'll still eventually end up dead? In his award-winning debut collection of twenty-three fabulist fictions, The Era of Not Quite, Douglas Watson takes up this question by knocking off characters left and right. In one story, Watson tosses a luckless schmuck into the void. In another, he flattens a thoughtful library patron with a dump truck while the patron's daughter contemplates wonder. In the penultimate tale, a seven-year-old girl, poor dear, is bucked from a newly invented breed of miniature horse. Deaths stack up, morbidity becoming its own joke as nihilism loops back on itself again and again. The result is absurdity, hilarity, heady contemplation, and killer prose.
Of course, there's nothing like a good literary offing to cleanse the palate, and this book offers deaths galore. But Watson's stories run deeper than clever premises and guillotine giddiness. In this first book, winner of the BOA Short Fiction Prize, Watson adds his unique voice to postmodernism, joining the ranks of Barthelme, Beckett, and Calvino and holding his own. With playful experimentation and linguistic prowess, Watson mocks the conventions of fiction, making us wonder what stories really are for in this post-literate era when the masses can read but literacy fails to deliver us from unexceptional lives. Before you can lose hope, though, Watson shifts away from farce, showering us with moments of linguistic sublimity that remind us why fiction endures.
Watson drops us into folkloric lands of kings, wolves, and dragons as readily as he places us in nondescript contemporary landscapes of billboards, busses and, yes, libraries of all things. Then there are stories where Watson muddles time, inserting props from commercial culture into the sparse world of the fable. Take the story "When the World Broke," where a golden-haired peasant boy living in a remote village on the edge of a forbidding forest fills a water bottle—ubiquitous thing—before slinging a bag of oats over his shoulder and venturing off through valleys lit by thousands of electric lights on a quest to save his beloved ailing mother and the world. It's as though Watson is saying, hey, this is the realm of fiction, an artificial space, no? Fairy tale setting? Depressingly realist small town complete with Unitarian church? What's the difference when neither really exists in a book?
Into these confused and anachronistic settings, Watson focuses his gaze on down-and-out characters, friendless, discouraged, but not without hope. Take Hal Walker from Watson's title story "The Era of Not Quite":
[…] It was a fine day on which to risk everything. / Everything, in Hal's case, was not much. Although he had a bungalow and a great many books, Hal had no friends, family, lovers, admirers, or even detractors. Also, he no longer had the first half of his life. He did, though, have a job with the local telephone company, deleting from the telephone directory the names and phone numbers of people who had died. It was not a very demanding job (25).