The Tales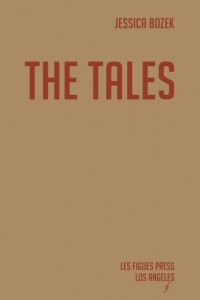 The Tales
by Jessica Bozek
Les Figues, December 2013
76 pages / $15  Buy from Les Figues Press or SPD
Jessica Bozek calls her spurts of narrative in The Tales poems, but they aren't, quite. Except for the sprawling middle section, Bozek's short book is made up of justified blocks of prose such as this:
THE SAVING:
A FAIRY TALE
The loon's lesson.
Now under funerary green, the citizens are cut off from the surrounding lands. A loon teaches them that they can dive down into their own small lake and come up in another lake. The cost of this transport is that all communication must happen underground.
The spurts trace the trajectory of someone called "The Lone Survivor" after a cataclysmic war known by its aggressors as Operation Sleep. The Lone Survivor makes his way into the world of the attacking nation, seeing visions of thriving life as he tries to hold onto his own past. From what I can see, he is eventually banished to a sort of reservation/museum-type installation, where reparations are attempted as time progresses. The political implications here are explicit, and welcome. But the value of the tales is mostly, I think, in their language, the way Bozek tells this story. Not through poems exactly. Nor, though, through fiction.
Of course, Bozek can call her work whatever she wants to call it. Poetry. Prose. Visual art. (The book is, indeed, beautiful, printed with all the white space that such short blocks of writing require, black endpaper, a red and gold Russian starkness on the front and back covers with a typeface of the same ilk.) But The Tales reminds me more of the hybrid work I am used to seeing from Tarpaulin Sky, in books like Kim Gek Lin Short's China Cowboy and Sarah Goldstein's Fables. In fact, The Tales earned its publication by winning the 2012 NOS (Not Otherwise Specified) Contest with Les Figues Press.
Bozek's work here strikes me as one in a string of very compelling books of very short prose that are both language- and narrative- oriented. Such writing, I think, performs its work in a different space than poetry or prose. Where poetry, I would argue, creates much its value in the relationship between words, and more traditional fiction creates value in the relationship between paragraphs and events, Bozek's hybrid vignettes seems to do their work between sentences, redefining causation, its images evoked with some clarity and yet set beside other images that would not "normally" come after them. The effect is a sort of circling-around, an attempt to penetrate the ineffable that is almost Zen-like. The shorts' slow spiral tends toward some wordless meaning, I envision, drawing a picture in the readerly mind of a world with qualities so magical as to be literally inexplicable.
Part of this world is what we understand as dystopian, in the tradition suggested by the preface on "Operation Sleep," by the book design, by words like "reparations" and "the State Museum for the Justification of Military Action." But there's something in the prose that is beyond words, too. In this vein—that, perhaps, of poetry—it is important to recognize that priority is given not to the narrative overall but to the effect of individual pieces. Symmetry is not a priority in this volume, and I am glad for it. Each piece stands for itself.
Which may be one reason why Bozek uses the word "poems" to describe what she's written here. Another reason, I might guess, is her sheer personal investment in each piece, the compression of so much thought and feeling into so little language. The text of the book is followed by a full complement of back matter, sometimes outwording the vignettes themselves, as with one of the many with the title "The Lone Survivor's Tale":
I shed clothes in remembrance. The braided cables on my sweater unravel from the neck as I wind through the tree trunks, making a cyan tangle. When there is little left, I bite down to keep the cuffs.
Jessica Bozek explains, in her notes:
"The Lone Survivor's Tale (I shed clothes…)" is based on a pair of small Francis Alÿs paintings I saw at the Philadelphia Museum of Art. However, the museum must not have these paintings any longer, and I can't find any evidence that they exist. It seems that Alÿs also enacted the unraveling in a series of public actions called Fairy Tales in the mid-nineties. I do not know whether the paintings of a man in an unraveling sweater precede Alÿs's unraveling of actual sweaters.
As glad as I was to have these iterations, I was even happier without them, for it is exactly the gaps in The Tales' information that make it so compelling. The book's middle third, the only section written in what would seem visually to be more explicitly "poetic," ensues when the Lone Survivor "unspool[s] the words of those lost." Across a series of mostly blank pages are scattered fragments of images and speech, remnants of some mostly erased world. The blank, here, is visual. In the rest of The Tales, it is conceptual, a blank in mental imagery, evoked in the way of the koan. So that we simply believe Bozek when she says:
I have begun weaving nests from the fallen hair on the floorboards and furniture. I leave these nests on high things outside. I want to be useful to the birds.
There is something more here, some ache, some weird impulse of energy and sadness toward a relevance that will never be relevant, not even to the few birds that remain to the Lone Survivor as companions. Not to mention the sheer image of a nest of fallen hair, wispy and whisked away in seconds by the wind.
But then, again: it doesn't sound as good when you try to explain it. Which was why I was so happy to let Bozek's Tales just breathe.
***
Dennis James Sweeney's recent work has appeared or is forthcoming in Fractured West, Sundog Lit, Whole Beast Rag, and Word For/Word. Find him at dennisjamessweeney.com.