The White House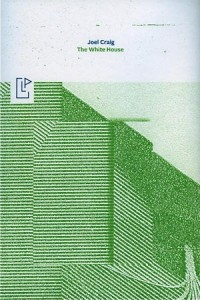 The White House                                  
by Joel Craig
Green Lantern Press, 2012
80 pages / Dust jacket edition $20;  Regular edition $15
&
Palm Trees
by Nick Twemlow
Green Lantern Press, 2012
82 pages / Dust jacket edition $20;   Regular edition $15
Two synchronous 2012 releases, Joel Craig's The White House and Nick Twemlow's Palm Trees, invoke the communal support Chicago's Green Lantern Press evokes in its intimate independent practice: small groups collaborate in the sort of devotion that can only survive beyond the constraints of money, friends sutured together in the simple creation of works of beauty.
Craig and Twemlow are longtime Chicago friends. Craig co-founded and curates the Danny's Reading Series, and is the poetry editor for MAKE: A Literary Magazine. Twemlow now lives in Iowa City, where he writes and makes films. He also co-edits Canarium Books.
Because of Craig and Twemlow's friendship, Green Lantern's founder, Caroline Picard (who launched the Press and Gallery years ago, with pal Nick Sarno) released their respective books of poetry simultaneously, so the friends could tour together.
No Green Lantern release is regular; every book steeps in curiosity, newness, the unexpected. Every release is bound with delicacy, according to the "slow media" approach, making each book a curatorial site. It feels limiting to call them books. They contain ephemeral inserts, silk screen covers; artist plates.
The books might be siblings. They do bear some physical resemblance: