The Whole of Life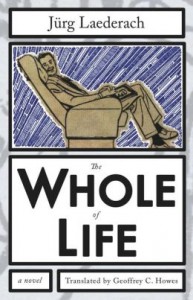 The Whole of Life
by Jürg Laederach
Dalkey Archive Press, Jan 2014
300 pages / $15  Buy from Amazon or Dalkey Archive
Waiting for the publication of Jürg Laederach's The Whole of Life, out now from Dalkey Archive Press, I revisited his very funny and hip 1990 Semitext(e) collection, 69 Ways to Play the Blues. Laederach is a one-time enfant terrible of Swiss literature (he writes "I'll be called a young writer until I'm eighty,") and his work epitomizes boomer cool. A devotee of Jazz and Downtown Music, Laederach made several trips to NYC during the 1980s. 69 Ways was written on the third trip.
Laederach is an avowed devotee of improvisational music:
69 Ways crackles with wry observations. On Bleecker Street: I am Bleecker Street, "that intersects and eschews any rude display of house numbers."
On the view from Swiss cemeteries: "To a majority of the inhabitants of Switzerland, death, not Lake Geneva, brings about a marked improvement in their standard of living. Great pains are taken to see to it that graveyards have a "view" they are thus conceived with a strong sense of landscape and perspective."
When authors get hungry: "All he could do was point a shaky finger at a sandwich and growl."
The Whole of Life shares this offbeat cool. Framed as a sort of messy first-person, the plot follows a Swiss everyman, Bob Hecht, (endearingly called "My boy Bob Hecht" a la Charles Mingus: Beneath the Underdog) as he navigates mid-century industrial Europe.
The book is very funny and sprawling. The ethos of improvisation is most noticeable in Laederach's pastichework. Different styles and references are co-opted and incorporated as a sort of self-analysis. In one section, a year of unhappy cohabitation is narrated as a boxing match. In another, he parses out the existential implications of deleting a Jewish character from the text. He has persistent dopplegangers, including a pair supposedly co-writing his memoir. The text falls into stage directions. And technical directions: "PAN F Perceptol min 68 F 10 ASA 25 DIN 15 Microphen min 20 C 4 ASA 64 DIN 19 or 68 F 5 650 ASA DIN 29 with reduction to 125 … The kind of prose we can expect in the future." But through all this, he maintains a detached cool.
Comments Off

on The Whole of Life by Jürg Laederach
April 18th, 2014 / 10:00 am