Tim Roberts
I've been thinking a lot over the last year about how to nurture innovative writing communities and build structures to support those communities in places where they don't exist, or where the existing structures are rickety or shoddy. About ways to create horizontal networks of writers interested in dialogue and exchange about art and writing outside of a university context. Maybe it's because I've spent too many hours at readings with authors aiming for the NYC big leagues and elbowing each other for position. Too many evenings listening to the same "good story" or "good poem" lectures. Disappointed and often frustrated by the lack of innovative lit/art endeavors outside of a handful of big cities (and smaller centers), I've been looking for models for building innovative / small press / interdisciplinary writing communities in all the places we live.
As I set out to look for different examples, one kept coming up: Tim Roberts and Julie Carr's work to build Counterpath in Denver, Colorado. Counterpath combines so many things: a press, a bookstore, a gallery, a performance space; their focus on the work of writers and artists who are driven to make "linguistic and visual interventions in contemporary global culture" seems spot-on. I am particularly drawn to Counterpath because their definition of what is "new" seems broad and because they are explicitly interested in work from groups often under-recognized in the experimental literary universe: people of color, women, queers. And their list of readings and events made me oh-so-excited: CA Conrad, Rodrigo Toscano, giovanni singleton, Lisa Robertson, Eleni Sikelianos. They've collaborated on events with Ugly Duckling Presse and Coffee House Press. I wondered how they did it all, how it all started and wanted to see if there was something I could learn from their experiences. Of course, being in the experimental hotbed of the Denver/Boulder area makes their job a bit easier, but I still wondered how they'd done it. There's a great interview by Noah Eli Gordon with Julie Carr on the Volta that addresses some of these questions, but I still had more questions when I finished reading it.
So I sent Tim Roberts at Counterpath an email to see if he could give more details about the kind of work they're doing. This interview is the result. Enjoy.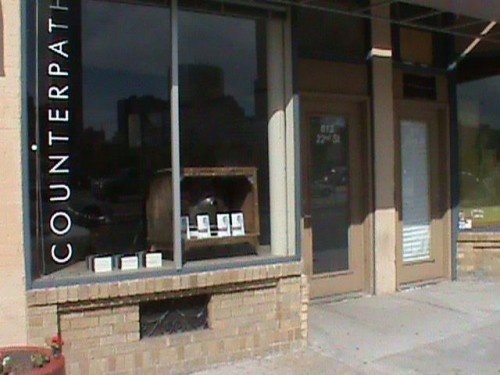 JP: How did you and Julie Carr begin Counterpath? Why and when? Was it originally a press or a space or a bookstore? Which came first? How did the other pieces develop over time?
TR: We were living in Oakland, CA, when we started the press, in January of 2006. Julie was finishing a Ph.D. in English at UC Berkeley and I was working in book production at Stanford University Press. Both of us were doing a lot of writing, and then at that point I thought I could deal with most of what was necessary in terms of making the books, including design. The press project itself kind of just came to us and seemed like a natural progression of what we were already doing. We thought it might be useful in two distinct ways, in that it was a project grounded in a broad concept of writing itself, picking up from writers like Blanchot—not necessarily connected to a book, or ink on paper—and that responded to a sense of I guess political hopelessness when the US actually re-elected George W. Bush in 2004.