Tomaž Šalamun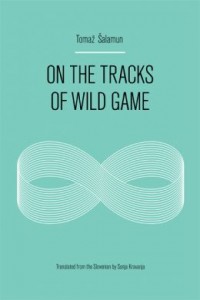 On the Tracks of Wild Game
Tomaž Šalamun (Translated by Sonja Kravanja)
Ugly Duckling Presse, 1979/2012
108 pages / $14.00 buy from Ugly Duckling
It's fairly disarming to think of the poetry in Tomaž Šalamun's On the Tracks of Wild Game as over thirty years old. The poet's approach to and manipulation of language is frequently unexpected, exciting. Fresh. He sets the bar, here, not only as we look back retrospectively on what the poetry world was approaching at the end of the twentieth century, but also as we ourselves presently work to create and maintain unique, innovative voices. I can imagine this book would generate about as much enthusiasm and dialogue, if published tomorrow, as it has as a translation. The work marks a pivotal appreciation for the Slovenian writer, but more importantly to literature outside the Western canon in general.
The brevity of the majority of the poems is particularly exciting. Šalamun strikes hard with the saying as much with as little as one is able. To me, the untitled poems, fleeting yet devastatingly moving in their images and volatile turns of language, reminded me of Bashō and other Japanese poetry I've read translated by Kenneth Rexroth.
The simplicity drives the purpose behind the works. Šalamun is able to transform the direction and force of these moments usually in one or two words. Notably it is the function of the ending, which takes a good poem and makes it an awesome poem. "When will I be captured / by the breadth of this honey?" (8) and "where did your women hide / as you fled to this tree?" (9) are early examples of how powerful a tiny image, a markedly heretofore unestablished or dramatically appearing image is responsible for the weight and reaction of the poem. Ending, here, on a question, is complex: it operates as a turn from writer to speaker to reader, an introspection on the speaker's part, and an endowment of agency and participation from the literary context to the reader.