Thursday, March 14th, 2013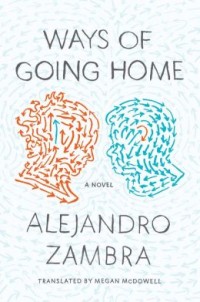 Ways of Going Home
by Alejandro Zambra
Farrar, Straus and Giroux, 2013
160 pages / $23.00 buy from Powell's or Amazon
1. Bonsai by Alejandro Zambra is one of my favorite novels.
2. It's the kind of novel you read on a Sunday morning and by late Sunday afternoon you find yourself wandering around a park, looking at the grass, noticing sadly how birds do things, thinking about people you don't talk to anymore.
3. Nicole Krauss' blurb for Ways of Going Home: "I read all of Alejandro Zambra's novels back-to-back because they were such good company. His books are like a phone call in the middle of the night from an old friend, and afterward, I missed the charming and funny voice on the other end, with its strange and beautiful stories."
4. Despite the fact that I think people have made fun of Nicole Krauss' blurbs, this is a good summary on the effects of reading Zambra: the phantom voice that you're immediately drawn to, that hovers over things in its aftermath, whose touch is light but which leaves you with escalofríos,
5. I was really excited for this book, though I think I was a little turned off by the title. Or at least concerned.
6. The title in Spanish is Formas de volver a casa. It makes me think of topological patterns, endless and multiplying permutations to get at the same thing. It makes me think of mazes and dizziness and graphs. The title in English, Way of Going Home, makes me think of Oprah, or a book that Oprah would read on vacation somewhere.
7. Which isn't to say that the translation by Megan McDowell is bad. It's very good, in fact, like the last Zambra book she translated, The Secret Lives of Trees.
8. Zambra is a cozy author. You feel cozy in the midst of his prose. His sentences seem simple and effortless; you nestle easily. Other cozy authors I can think of: Haruki Murakami, Don DeLillo, Michel Houellebecq.
9. It's been at least two weeks since I've read this book and I can't really decide if I liked it or not.
10. Chad Post definitely didn't like it. While I agree with some of the points in his review, I don't appreciate his tone, which I find to be condescending. (more…)