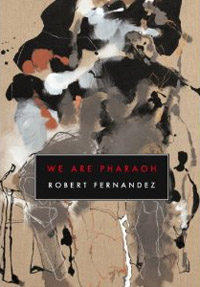 We Are Pharaoh
by Robert Fernandez
Canarium Books, 2011
136 pages / $14  Buy from SPD
We Are Pharaoh is Robert Fernandez's first collection of poems, published in 2011 with Canarium Books. In this collection, we find ourselves located in a lush and tropical landscape; however, this landscape becomes quickly complicated by a fragmented lyric that ensnares all that crosses its path. While Fernandez's poems are entangled in broad themes such as the lyric, human history, art, and the Sublime, the poems of this collection are primarily concerned with the cyclical and conflicted nature of upheaval. Although it seems impossible for one collection of poems to effectively reconcile so many disparate and limitless themes, Fernandez succeeds in creating a sense of cohesion. There is an inexplicable awe and certain joy that radiates from We Are Pharaoh as Fernandez tasks us with the challenge of tracing and teasing apart his root-like lyric—"A tangling of fruits and vases" where "the shade is verboten." In this act of tracing, and "if [we] were to succeed," we may discover what truths may lie "in blinding sunlight" above the foundation of this collection (84).