pr
Letter From Austria: Peter Handke's Sorrow and My Own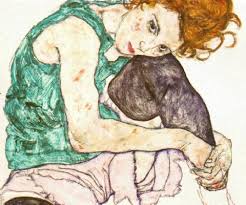 (The New York Review of Books publishes books that belong in print, but have fallen out of it. Yes, this is a highbrow small press, but they are doing excellent things. Check them out. Peter Handke's A Sorrow Beyond Dreams was first published in translation in 1974 by FSG.)
I am deep in the Austrian Alps of Carinthia, near the borders of Italy and Slovenia, in a province largely full of people who never leave it, a six hour train ride from Vienna, staring out my hotel window to enormous mountains and yards and yards of snow, pine trees, and quaint houses that have not changed in structure for hundreds of years. Handke is from Carinthia, from a town not far from here. My parents and I  see each other once a year because they live in Vienna and we live in New York. Once, I looked out at all the beauty and thought; "All this beauty. Too bad it is full of Austrians." Other times I look out and try to be happy and grateful. (There are things I like about Austria. I like the food, the Frittatensuppe, the Topfen, the Semmeln, the delicious Austrian pastries, as good as any Italian pastry. I have a weird fetish for the traditional clothes, the Dirndls, the Lederhosen, the felted wool in general. (I grew up wearing that stuff.))
Peter Handke's mother killed herself by taking an overdose of sleeping pills at the age of fifty-one. He writes:
My mother has been dead for almost seven weeks; I had better get to work before the need to write about her, which I felt so strongly at her funeral, dies away and I fall back into the dull speechlessness with which I reacted to the news of her suicide.
One of the themes is dullness of thought, and boredom. Ghita Schwartz, writing in The Believer, uses this theme of boredom to write about her father's death, and I wonder, most likely incorrectly, if she got the idea from Handke. Handke, to his credit, tries to fight this dullness of thought (as does Schwartz, in the act of writing the essay itself).
My mother is the same age as Handke, of the same generation; she is not of the generation of his mother. My mother has not killed herself; she has dementia from multiple strokes. She is sixty-four years old and has very bad short and long term memory. She is also angry and ashamed about this. On the way to Corinthia from Vienna, she wandered off without us noticing and then got off the train at the wrong stop and yelled angrily, "Guys, are you coming?" The conductor and my father rushed to get her back on the train. After that, she wouldn't sit in the cabin with us. She remained standing by the door; quiet, alone. She was afraid and ashamed.
Handke writes in the tradition of post-modernism. I have read only one of his other books, a short novel, The Left-Handed Woman. I enjoyed it, but I like this book better. A Sorrow Beyond Dreams is non-fiction but still uses many of the techniques of post-modernist fiction.  Here is a paragraph I really enjoyed from a highly self-conscious section consisting of many parenthetical paragraphs (which I used in an earlier paragraph here in this essay):
(These two dangers- the danger of merely telling what happened and the danger of a human individual becoming painlessly submerged in poetic sentences—have slowed down my writing, because in every sentence I am afraid of losing my balance. This is true of every literary effort, but especially in this case, where the facts are so overwhelming that there is hardly anything to think out.)
Before Handke's mother killed herself, she had a nervous breakdown that was preceded by and then accompanied with chronic pain.  Before that, she had a life filled with suffering and very few choices, a life which Handke describes minimally, with true artistry and compassion.
She hardly spoke above a whisper, she was even too miserable to complain. She let her head droop, first on one side, then on the other, but the pain followed her.

"I'm not human any more."
In my notes, in the margins, I wrote, "The death before death." My mother, too, has suffered a sort of death before death, a death of memory. If we don't remember our lives, our days, who are we? Her eyes often show the confusion of a small child. At other times her eyes show the blankness of a small baby. Sometimes, I try to convince myself that it is not all bad. That this way, when she does die, she won't really know she is dying.
This following paragraph somewhat accurately describes my mother on a bad day:
But in the house as well she wandered about, mistaking doors and directions. Often she had no idea how she had come to be where she was or how the time had passed. She had lost all sense of time and place.
Here are some other things Handke writes about his mother during her nervous breakdown that also accurately describe my mother:
She watched television but couldn't follow…panic-stricken…she was afraid of losing her mind.
When my mother first became demented, I thought she was just being really annoying. She would ask so many questions. I said to her once, "No more questions!" I would get angry at her. Then, when I realized that she couldn't help it, I was ashamed of my anger. Now I try to be very patient. But it is hard. She asks the same questions, over and over again, all day long, all week long. All she has is questions. She has literally, physically, lost parts of her mind. The MRI showed the brown spots on her brain. They are dead spots, spots where her mind is lost. Handke's mother regains her mind, for the most part, but then kills herself anyway. My mother will never regain her mind.
Here is Handke at his most brutal and trying to distill the most true thing:
It is not true that writing has helped me. In my weeks of preoccupation with the story, the story has not ceased to preoccupy me. Writing has not, as I at first supposed, been a remembering of a concluded period in my life, but merely a constant pretense at remembering, in the form of sentences that only lay claim to detachment.
I believe objectivity was Handke's goal, but it is an impossible goal. That said, it is an admirable goal, one that has produced a stark beauty. The real accomplishment of this book, to my mind, lies in the simple act of writing itself. And the book, (again in my mind), among many other things, is a tremendous testament to the absolute need of feminism, to the absolute need of women's reproductive and economic freedom.
Without his knowledge, she gave herself an abortion with a knitting needle…A third abortion, followed by a severe hemorrhage. Shortly before she was forty, she became pregnant again. An abortion was no longer possible; the child was born.
Here is Handke after hearing about his mother's suicide, flying to Austria from Germany on the airplane:
Yes, I thought over and over again, carefully enunciating my thoughts to myself: THAT DOES IT. THAT DOES IT. THAT DOES IT. GOOD. GOOD. GOOD. And throughout the flight I was beside myself with pride that she had committed suicide.
Handke's emotions run the gamut after his mother's death, but it is not crazy to think that she had put an end to her suffering, and that it was brave. Mind you, it is a passing feeling of Handke's, like most feelings are, unless we cling to them. I worry that my mother, under all her haze, is deeply suffering. My father suffers. He said to me the other day, "we talk about how we wouldn't want to live without each other."  This is the beginning of the end. How long will it last? Ten years? I have no idea.
Upon finishing this book, I had the impression that ultimately, Handke makes clear the necessity of love, and how the lack of it is could be the greatest sorrow, the wildest of all pains, of the many pains in this book. I say this because upon finishing it, I thought, where did he once use the word love? It's in there, but mostly as a fleeting moment, not as a part of life between adults. And yet, a mothers love for her children is here, vaguely, but permeating the book. ((In my mind.) (Also, it is here where I feel most unable to say what I want to say about this book and what I can't say right is the most important thing that needs to be said).
Here is Handke toward the end of the book, writing about his mother:
Often, as she passed by, she would quickly wipe out the children's ears and nostrils with her saliva.  I always shrank back from the saliva smell…When everyone had been served and finished eating, she would daintily pop the remaining scraps into her mouth…She was kindly.
All of the above describe my mother exactly, the actions of a poor Austrian peasant woman, doing what they did for generations and still do in remote enclaves, in the hard to reach places, in the difficult landscape of cold and snow and impossible mountains.
Someday I shall write about all this in greater detail.
And this is how this book of sorrow and pain ends, on a note of such hope, the act of writing, the hope to write more, being the act of hope itself.
Tags: new york review of books, peter handke
17 Comments