Roxane Gay
A Conversation with Jonathan Starke, Co-Editor, Palooka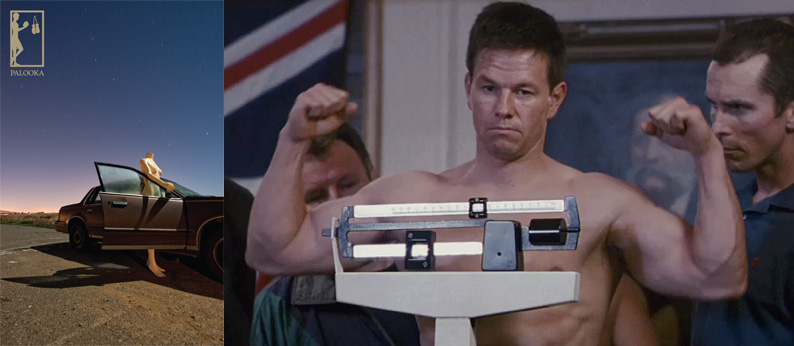 I recently had the opportunity to meet Jonathan Starke, who was visiting Eastern Illinois University as a visiting writer and we sat down to talk about the new magazine he's editing, Palooka.
What is underdog excellence?
It's the showcase of skills by writers who aren't quite making it in the top journals. Publishing in the literary world is a hard thing to do, especially if you don't have a name or connections. But there are so many writers and artists out there who have no MFA, no name, no connection, or only choose to publish in smaller journals, and these are the kinds of people we consider underdogs. They might be on the cusp of breaking through or not even close, but what doesn't change is the fact that these unknowns are creating work that is both hard-hitting and pretty impossible to forget, even days, weeks and months after seeing them for the first time.
What is a Palooka?
Essentially it's a second-rate boxer. But that's not how we've come to define the word (I'll explain this later on). I'm a huge fan of boxing and mixed martial arts, and we were struggling to come up with a name. I'll give you an excerpt from Nick's Note in our first issue which helps explain our thought process on the name: ". . . every other day we were redefining ourselves. First with our name: ―Maybe Gun Lake Review? Something River? Are there too many literary rivers out there?" One day I was revising one of my own short stories about a boxer and his trainer. It just kind of came to me then. Palooka. And I suggested it to Nick, and he thought it was a pretty cool word, and it was really the first one that hit home. When I explained what its definition was, we just both sort of understood what our modification of the word would be. The original definition doesn't at all mean that we're publishing second-rate work. It's the most moving and engaging work I've ever seen in a literary journal. We wanted to give that word our own spin. In our world, Palooka is about the underdog, the dark horse in the literary world. You might not know the writer or artist, but that doesn't mean she isn't producing work that will blast your socks off!
There are so many literary magazines out there. Really, so damn many. What compelled you to throw your magazine into the mix?
Again, it's about giving the underdog a chance. We only made this magazine with writers and artists in mind. No egos went into this at all. It's not a bit about us. It's purely about supporting those who aren't being supported by others. It's almost impossible to pick up an established literary magazine without seeing at the very least one famous or somewhat famous name in the contents, but it's usually more like 30% of the book, if not more. On top of this, how many of the lesser known contributors were actually solicited? When it comes down to it, it's just really hard for unknowns to get out there when this is happening, and it's the underdogs who need the exposure. We wanted to create a magazine that was purely about the work being produced and not a single bit about who you are. We read blind. We do not solicit work. Ever. This magazine was really founded as a shove back against what's happening in the literary magazine world. We wanted work that was relevant, that felt like it was breaking new ground. We don't care about what it should be, because it shouldn't be anything except what it is. We don't read with expectation. We wanted to create something that was not only fair to those submitting, but was also clean and new and would bring the delight of reading, something a little surprising back into the literary world.
How do you and your co-editor work together? Who does what and why?
It's really an incredible partnership. Nicholas Maistros is a fantastic writer, reader, editor and friend. I really feel lucky to have such a person reading work alongside me for this magazine. We both read the submissions. If we like something, we make a note about it and pass it along. Then we sit and talk about the piece, usually for hours. We then decide together whether or not to take each piece. There really is no give and take. If he likes a piece and I don't, it's out. We must both agree, and it's been pretty simple to agree on the work we accept. We click so well that it's usually a no-brainer when one of us sends the other a piece we want to take. Nick has a really quick mind for the editing, so he does almost all of the copy-editing, and I don't envy that job at all. I don't really think in those kinds of ways, so I do the magazine layout and handle the website and Facebook account and funding. Basically the business side.
What is your print schedule going to be?
We are doing two issues every year. That's for sure. I would really like to do a little supplementary book here and there, but that will have to wait until we've been around a few years.
Do you have any plans to include an online component?
We do offer samples from each issue online, some excerpts and some full pieces. We also have an e-version of the book.
What is your ambition for Palooka? What do you think your magazine can become?
It's always about the people behind the work. This book is truly about the joy of putting a smile on the face of an artist or writer. We just want to make our contributors happy with the final product and proud of the book their work is featured in. Considering we've only been around since May, I think we've done a pretty good job. We are quite ambitious. We will never make any money. I know this. All we want to do is reach more readers and writers and artists and make a statement about what writing and artwork can do. There is so much new talent out there, and we just want to showcase that. This magazine will be something big in the future. It means everything to us right now. It will mean a lot to the literary world, it will just take time. From the response so far, I think we're really succeeding with the simple goals we set out with, and those were really just to be fair to submitters and give everyone a true chance and deliver a product that's outstanding.
How does your personal writing influence or inform your editorial work?
One cool thing is that we actually flat-out tell writers and artists what we're looking for in our submission guidelines. There are no generic statements about "best literary work." I mean, what is that? As writers, we don't cling to the ideas of what literary work is supposed to do or what has traditionally been done. Again, that doesn't mean we're seeking extremes or anything, but we're not interested in the static. Really, it's about how the work makes us feel. Are we thinking about it days and weeks later? I'm still thinking about Dan Piorkowski's two-paragraph short story about a kid catching fish with bread crumbs and putting the dead fish in Tupperware containers and floating them down river. I first read that piece in May of 2010, and it was the first piece we ever accepted. I've read thousands of pages since then, but that piece is all over my brain.
As editors, we clearly love everything we publish, but just like children, Daddy always has a favorite. What was your favorite piece from the first issue? Why?
"Memories of a Faceless Country" by Natalia Andrievskikh. I remember sitting down to read this essay for the first time and feeling overwhelmed. I thought, wow, what is this woman doing sending us this incredible piece? It deals with the loss of a country and innocence and searching for a connection with her mother and with female characters on television and in books. I feel loss like this all the time. I write about this loneliness and this loss. My essays and fiction almost always center around father-son dynamics or loneliness, so I really personally related to it. I mean, you really can't go wrong with this piece. Her descriptions are so good that I see color when I think of them, I smell fresh fruit.
Funding a print literary magazine can be a real challenge. You've gone the route of charging for most submissions. Did you struggle with that decision? Do you think that's a realistic way to sustain operating costs? Do you actually make enough from submission fees to fund the magazine?
It was a really hard decision. Very tough. I hate that projects like this have to be about money. We started the magazine with our own money, and we're both graduate students living paycheck-to-paycheck, largely in debt. The charging for submissions really has helped fund this journal. That, and some generous donations have helped a lot. It really comes down to this—if we don't charge for submissions there is no magazine. So, what's worse? Free submissions and no Palooka or charging for submissions so this great and fair opportunity for writers and artists can still exist. It's funny, sometimes I think people believe we're charging to be greedy, like we're making a huge profit and it's a scam. Every cent goes right into the magazine. We don't pay ourselves. We will never pay ourselves. I think people find that hard to believe, that we've spent hundreds and hundreds of hours working for free. And we're not doing it for us. We're doing it for artists and writers, and that's really just the end of the story. It's about you.
You're pretty familiar with a lot of literary magazines. What kinds of trends do you see across magazines? What are literary magazines doing well these days? What could they be doing better?
DOING WELL: I'm seeing a lot of new websites. Tons of them. I'm seeing lots of them turning to online submissions, to offering online content, to having e-journals, to Twitter and Facebook and RSSFeeds and blogs. I think all of this is great. It's sort of funny and interesting to watch such a traditional and sometimes uptight culture attempt to be hip. I like it. It's really fun to see. I'm seeing more interesting covers and layouts. They remind me a lot of my father in this way. They're slow to change, but realize they need to keep up, become a little more progressive in their ways and their thinking, and then one day they're right there with you and you're proud of them.
COULD DO BETTER: Fairness. I'm all about fairness. There's too much soliciting going on, which not only prevents upcoming writers from getting their work out but also limits the content of the journals' own pages. Politics shouldn't play such a big role in who is getting published and who isn't. This isn't to say that all magazines are like this, that all magazines do this all the time and this makes them evil. It doesn't. I do understand the reasoning behind these kinds of decisions, but that doesn't mean it's always right or fair. Give everyone a real chance. Be more open-minded about the work that comes through the office.
Headless mannequins are awesome. Who took the cover image from the debut issue? Why is this the first cover?
Amy Heiden. She is fantastic. Nick found this photo on Flickr, I believe, and when he showed it to me as a possible first cover, I just knew we had found it. We were both really thrilled. What an amazing shot, and I've only heard time and again about how much people love this cover.
You instituted a People's Choice Award. What's that about? Why do the people get a choice? What ever happened to benevolent dictatorships?
Oh, Roxy Pants (this is Palooka's nickname for you now). You are so funny! We decided we were tired of editors and writers making all the decisions for contests. We wanted readers to vote. We wanted to do something very different. I've never seen this kind of contest before in a literary magazine. We put up five poems we liked on our website and had people e-mail us a vote. The stipulation with the voting was that each person had to give their reasoning behind why they chose which poem. We tallied up the votes and the winner was published in our first issue, along with a handful of the comments we received about why the piece should win. Deana Dueno won that contest with a beautiful poem about being at the hairdresser…but it's obviously about more than that. Killer last line, too.
We spend a lot of time, it seems, talking about MFA programs at HTMLGIANT. It's an interesting thing, people taking and investing the money to get a degree for writing, something, which many people assert cannot be taught. You're currently in an MFA program. How has that experience been for you? What do you think about the relationship between MFA students and literary magazines based out of MFA programs?
I want to say very little about my MFA experience. The bad has come in heaps, the good in a handful. Nick is part of that handful, and I'm thankful for that. I work as an assistant editor at Colorado Review. As part of my MFA program, I have been allowed to work alongside Stephanie G'Schwind who is the editor of CR. Stephanie is an incredible editor. I have mountains of respect for her. I much admire the editorial skills and knowledge she possesses. I think it's a beautiful and wonderful thing to have a magazine associated with an MFA program. I've worked directly with an editor of one of the most reputable literary magazines in the world for three years now, and without that experience, I never would have understood how to put together and run Palooka. I certainly had desires to have my own magazine for years and years, but this experience helped make it a reality. Also, we have hundreds of literary magazines on the shelves at CR. All kinds. It's wonderful to see these journals day in and out and be exposed to the possibilities. I do wish MFA programs would teach students more about publishing and offer more classes on literary magazines. They are so important to the career of a young writer, and I always wonder why more time and energy isn't put into educating students about these. Plug: buy and read literary magazines.
22 Comments