Behind the Scenes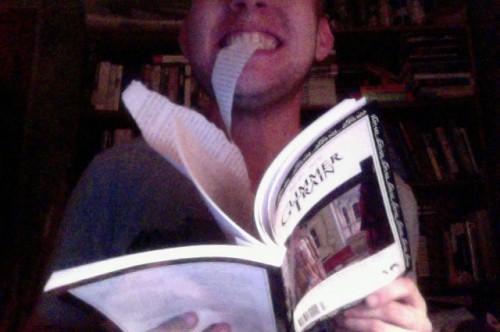 ok, Paul, so why should we read YOUR journal ???
I genuinely enjoy seeing someone's bogus sense of self-entitlement completely disrupted by the words or opinions of a Deluge contributor. I cannot help that this disrupted person is almost always a white heterosexual male.
I'm obviously not doing any of this for approval from others. I don't care if anyone disapproves of the kind of writing I'm distributing. I'm doing this to challenge readers. I'm doing this so people who are pissed off about a specific experience or situation have an outlet other than Facebook. I've been doing this since 2009 and I plan to continue doing this.
All joking aside, I think everyone should read Deluge because it is a celebration of bodies in the sense that I frequently choose to publish work by writers opposed to phobic violence against all bodies. I am sharing stories of bodies engaged with the resistance of corporate bodies.
And here let me quote myself:
The contents of an issue of Deluge is so many things at once. It might involve a critique of whiteness or the regulations that exist within sociality. It might contain work that is belligerently orgiastic and, at the same time, it might even contain work that is anti- male orgasm. Deluge is a bookshelf on which Solanas's SCUM Manifesto and Warhol's Blue Movie transcript both rest. Deluge is when Kim Vodicka writes, "Yes, I am a big 'ol bitch, and you best / stand behind me. / Feminist is next to godliness." It is when Roberto Montes writes, "I hear an October voice / Telling me to fuck / Is this racist / The white boys ask / When they grab my butt / Really wondering / How anyone could be different / Or turned like a gasket out." When Monica McClure writes, "But all I really want / is to live a good life / paid for by someone who feels / illiterate in symbolic systems of manhood / For him I will fill a bathtub / with expensive rosewater / that I got for free in swag bags / I'll stuff holes with pure sugar cane / bought with the IMF budget of countries / who failed to understand the compromising / nature of relationships." It is when you and Gary write lines like, "the wilderness knows i am a real fucking pig, and apples my mouth, over and over / i let myself get frosted by all the men dressed as trees."
Shit happens. Poetry happens. "Same shit, different bidet," READ MORE >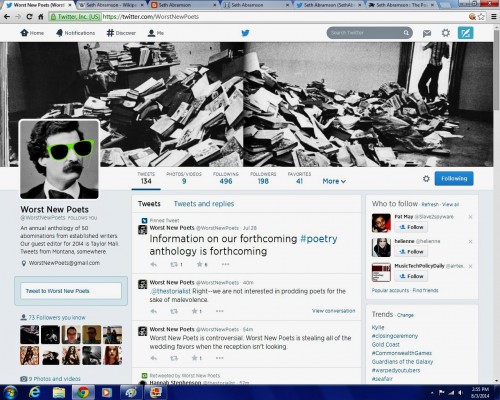 *******
There's nothing new about anonymous Twitter accounts taking shots at well-known writers. Some of them are funny. Some of them are mean. Some of them are neither. Some of them are both.
But what's got my attention about Worst New Poets is that they're engaging with their Followers (internet heavyweights like Elisa Gabbert and Rebecca Hazelton- but enough celebrity name dropping here) in a generally reasonable and intelligent manner. Plus, of course, how can you not show some interest in someone shoving pies in people's faces??  (But, I wonder, is this something we need?? … I dunno… And what's the deal?? … I mean, what's the deal ?? ..)
So, anyways I reached out to Worst New Poets, they responded promptly and politely, and here, now, is the transcript of a quick little Q & A that we did:
*******
Rauan: Please tell me what Worst New Poets is all about ?? (ie: what is it? why are you doing what you're doing? what good (if any) do you expect to come of it ??)
Worst New Poets: Worst New Poets was originally a spur-of-the-moment response to the annual release of Best New Poets (whom we admire very much). The impulse to start WNP, however, was not unfounded. These thoughts about the poetry landscape have been gestating in our heads—subconsciously maybe—for quite some time. We thought it was an interesting idea to call out some flaws published by established writers, instead of praising 50 "new" poets that were breaking ground in contemporary poetry. We don't have a set goal in sight, though we do enjoy the discourse that has been generated in the past week, so we don't think we'll stop any time soon.
Like we mentioned during the initial barrage of Twitter attacks (exaggerating), we like the idea of creating discourse within a community that far too often promotes from within. There seems to be a clear consensus among writers that the current literary landscape is extremely incestuous, READ MORE >
I recently read at an event organized by Peter Jurmu which took place at John Wawrzaszek's Chicago Publishers Resource Center
I chatted with John a bit before the reading and then asked him to send me a bit more info about the center:
Chicago Publishers Resource Center is a new community space in Chicago that focuses on literary and artistic projects. On Independence Day weekend, CHIPRC will celebrate its first anniversary!

We're fortunate in that Chicago has such a diverse and thriving publishing community, including a large self-publishing scene from indie comics to zines. There are multiple writing programs in area colleges and universities. It's funny how everyone is so compartmentalized – people don't realize the resources at their fingertips. There is not a dedicated space where all these communities can connect. The center is a community space that welcomes everyone looking for a place to meet others, learn a new skill, or simply to get to work.

The name is an homage to the IPRC in Portland, a wonderful resource to artists in that area. I took to focusing on the word publishing, allowing the community to define it as widely as possible. In the digital age, society is writing more than any other time in history. Programming has to include not only print, but digital media; it has to include film, music, theater, and comedy. It has to honor graphic storytelling in comics, animation, shadow puppetry, and design. Writing is not only influenced by all these forms, it is at their center.

CHIPRC's programming focus has been balanced between craft and projects. The idea of learning, honing, or improving a skill is important to establish a basis for implementation. In the first year, there have been workshops, discussions, meetings, readings, film screenings, work days and more. The ideas come from the community and are led by those in the community.

In the next year, I look to strengthening community partnerships and expand the types of programming offered. It's been great so far.
So, if you're wanting to host a reading, lead a workshop (how to make books, get published, do collages, etc, etc), or to find out about upcoming events, then please contact John at chicagoprc(at)gmail(dot)com.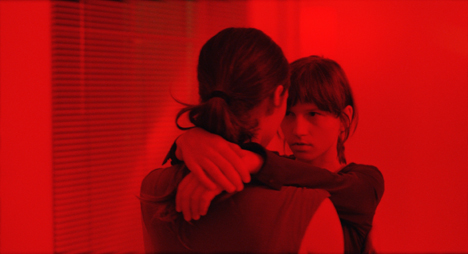 I used to do occasional "inside baseball" posts about running a small press, like this one from four (!) years ago. I guess it's been a while. I find them clarifying, and usually after I write one I change something about how I "do business." With that in mind, here are some numbers and thoughts related to Publishing Genius's book submissions currently and throughout history. This year's open submission period ends at 11:59pm on Monday.
Last year Publishing Genius didn't even have an open period, but that doesn't mean that I didn't accept books from submissions. It's just that I was still working through 2012′s manuscripts. There were about 400 that year, and it took me too long to figure out my responsibility to each one. It's really hard to honor every book, and I think I was intimidated by the force of dreams coming at me like a big, wet wave. I know the excitement of finishing a writing project—big or small—and the intense hope that comes with sending it off. READ MORE >
5 ways to get elias to like you
buy him an expensive dinner, an expensive outfit, or something expensive that he would like
tell elias about yourself but don't talk too much about yourself or elias will tune you out
never under any circumstance tell elias that he's your second favorite person
if you call elias in the middle of the night, please have something important to say to him (i.e. elias i just bought you a super expensive outfit) or he will terminate your relationship
do not bore elias under any circumstance
jonathan franzen despises elias
jonathan franzen does not like elias for some reason. it's probably because elias writes a lot on the internet and jonathan franzen doesn't know how to use the internet properly
elias grew up in greece
elias was a happy child in greece. he was super popular and everyone loved him. if this is a surprise to you, then you have a lot more to learn about elias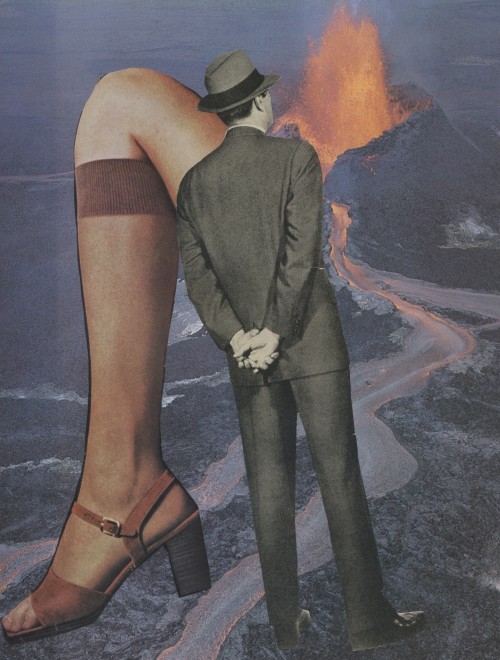 ***
In late April I read with Kevin Sampsell and Jay Ponteri in Nathan Curtis Warner's LYE:WORDS at Pond Gallery.
***
Kevin had a projector set up and interrupted reading from his book to show his Collages. Sometimes they contained text, and sometimes they didn't. Sometimes Kevin read the Collage text. . .Regardless, I was quite taken by them. . .And so I asked Kevin if I could feature some of them here on htmlgiant.
***
What follows, then is a Q & A we did with Kevin's Collages interspersed.
***
And for more Collages check out this
special section
of Kevin Sampsell's website.  And starting June 10th Kevin will be doing a Collage column, called Paper Trumpets,  for The Rumpus!!
****
Rauan: How did you get started doing Collages ??
Kevin: I was inspired by the cut-up experiments of William S. Burroughs and actually started doing word collages, mostly from newspaper headlines, about twenty years ago. I put out a weird little chapbook called Children's Book in 1996 and I've always wanted to make a follow-up book. I've kept this big manila envelope of words ever since then, occasionally pulling it out and making funny cards and pictures with them and giving them to friends.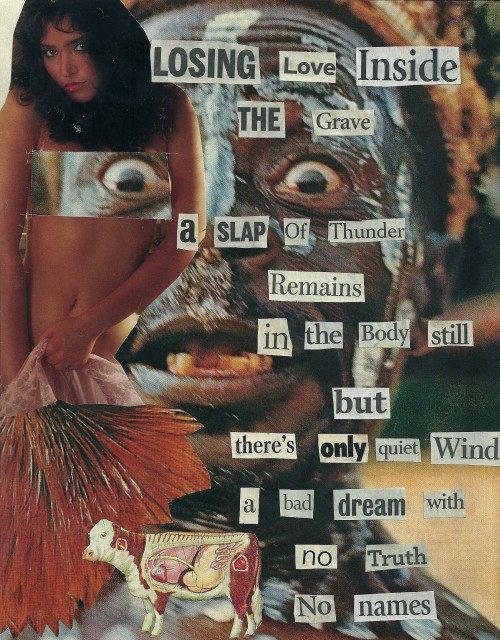 But those were more about wordplay and odd language. At the beginning of this year, I decided I'd pull out that envelope and start making more collages, kind of as a break from writing. I started to look around at other collage stuff on-line and discovered this whole big vibrant world of collage artists and, more importantly, I started to seriously consider the use of altered images to play off the words. I discovered this book called The Age of Collage and it included profiles and work by a bunch of great artists doing amazing work with collage. This page on the publisher's web site included videos of John Stezaker and Linder Sterling and I became hooked. Stezaker's video was especially influential. I started to look at collage every moment that I could and I joined a bunch of collage groups on Facebook too. I started to put more importance on how the images in the collage were presented. Words are still important, but the images are equally so now. Something clicked in my brain and I'm starting to figure out things with images. How to play with them and make them do strange things. Making collages is like creating optical illusions sometimes. Like with writing fiction or poems, pretty much anything can happen.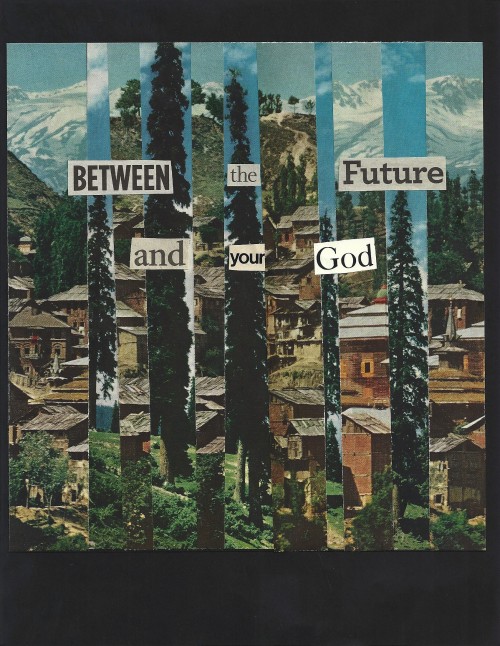 RK: Can you tell us a bit about yr Collage process??
For me, collage is all about seeing, as opposed to writing READ MORE >
There was a year during which I essentially told my brain that the way to become a writer was to get published by McSweeney's Internet Tendency. During that year I wrote a loooooootttt of things that are totally unusable for any other place and which were trying to get the right tone for that site. In retrospect, I fully blame the editor for always sending me back kind and personalized rejections which encouraged me—or at least I thought they did—to try again. Eventually, I stopped writing Open Letters, Monologues and Lists, but I think I owe my decision to try writing more to that editor and his charming rejections.