Janice Lee
Interview w/ Melanie Page of Grab the Lapels
I recently stumbled across Grab the Lapels, a book review venue that describes itself as  "ladies only — the books are written by women, and read by a woman." In light of continuing conversations about both the VIDA count and related gender critiques in the publishing world, and the environment of literary criticism in general, I found the concept of this site really interesting. Melanie Page, the brain behind Grab the Lapels, was kind enough to answer some brief questions:
***
JL: For those that don't know, can you explain the concept behind Grab the Lapels?
MP: Grab the Lapels is a website (so far, it's just me) that posts reviews of prose—but everything reviewed is written by women. The only reason I don't do poetry is because it's not a comfortable place for me to review well. Not all reviews are 100% gushing/positive, but all of them are respectful toward the author. Reviews are posted on the 1st, 7th, 14th, and 21st of the month. They are posted not only at Grab the Lapels, but on Google+, Amazon Reviews, Goodreads, Facebook, and are linked to The Next Best Book Blog's site. The books I review can be genre, innovative, mainstream, whatever.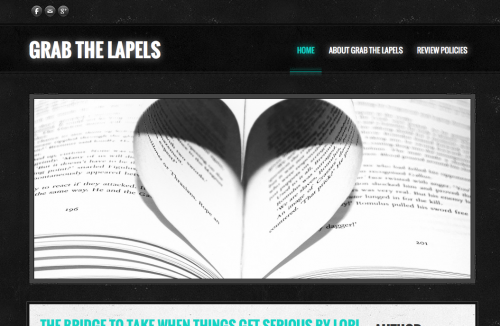 JL: Can you talk a bit about your past experience reviewing for other publications and what led you to start a review site specifically for and by women?
MP: I started with one review in The Collagist after Cris Mazza posted on Facebook that she wanted someone to review her forthcoming book. After I caught a typo in a book review at JMWW I was brought on to review there, and have done so regularly since 2012. I've also written for the Notre Dame Review, Necessary Fiction, The Next Best Book Blog, and American Book Review. In some cases, like NDR and ABR, the reviewer has little choice about what she reviews, but for the other publications I was often given a list of books from which I could choose. Most of the time the list was full of men and very few women, which bothered me. I started only choosing books by women after I reviewed a book that I thought was shallow and misogynistic (downright degrading, really) for one magazine. My review was so negative that the magazine shied away from publishing it, so I posted it on my Goodreads account and ventured out on my own.
JL: Do you think men respond differently than women to books written by women?
MP: I'm worried that men do respond differently to books that have more realistic depictions of women, especially female characters who aren't actively pursuing a man (especially if there is one good-looking, charming male character and it seems like they should just get together because "that's how fiction works"). I think some people like E.L. James and Stephanie Meyer normalize flimsy, stupid women, and because these huge national bestsellers are often turned into movies, it becomes easy to say "chick lit" (in a degrading way, not how Cris Mazza and Jeffrey DeShell coined the term in the mid 90s) is representative of women. "Chick lit"—weak, stupid, boring, predictable. The female reader can tell the difference between the cheesy books and and a more realistic perspective, but if she decides she likes cheese because it makes her feel good, that's a different topic.
JL: In a reverse version, do you think women respond differently than men to books written by men?
MP: I think women are so used to reading books by men that we're just as skilled as our gender counterparts. I feel that male readers have a sense of "privilege," even when they don't realize it, so that many of them look at fiction from a male-centric perspective, whereas women are more aware of their literary surroundings, so to speak. These two types of awareness apply beyond fiction, though. Ask a man how often he turns around when he hears footsteps behind him (to check that he's not being followed) or if he avoids bushes when walking at night (because someone might be behind them).
JL: You describe your approach to reviewing as "honest and respectful" on your site, and your openness to read new works and review honestly seems really indicative of your desire to be genuine about your experience with works, but also a great enthusiasm for literature in general. Can you talk a bit about approaches to reviewing in general? How your approach might differ from other approaches? Also I think many of our readers are also reviewers, and so is there anything you might warn against or advise as a book reviewer?
MP: I've read all kinds of books since I was a girl, from sci-fi to most of the Sweet Valley Twins (see, cheese). I'm familiar with small press books and can appreciate why a bestseller might be so popular. For me, it's all about audience, which is why I make a list of to whom I would recommend each book at the top of every review. I read an anthology about motherhood earlier this summer, but as a woman without kids who isn't interested in that part of womanhood, I thought about who might appreciate that book and why. I gave my reviewer copy to a mother who said she felt blessed that I had given her the gift because it spoke to her so deeply. This is a bit different from other magazines/sites because of a desire for a certain aesthetic. I don't really have an aesthetic because I have a goal instead: to read prose by women. If the author and I are the only people to read the review, so be it; however, the site usually gets 150-200 individual visitors after each new review. I would warn reviewers against comparing one writer to another writer (something I promise in my "about" section that I will not do) because next thing you know, everyone is the next DFW or Burroughs. If a reviewer can't think only about this one book he/she holds in his/her hands, then the reviewer needs to step back. I also encourage reviewers to make a list of what he/she considers good writing before reading. If the reviewer is going to look at a sci-fi book, what makes good sci-fi? Write down a list and post it in a document where you can see it while writing the review. This keeps the review from being too general or overly-gushy, which can happen with small press book reviews, in my opinion. Also, don't be afraid of reviewing friends, so long as the friend understands that your review will be honest. We don't need more people putting up false advertising.
JL: This article came out recently, in which Nicholas Lezard puts forward a case for the continued value of professional book critics in a time when we are inundated with "amateur" reviews in places such as Amazon and Goodreads. I think there's a continued need for both kinds of reviews, and the opportunities for just anyone to review a book online has changed the literary landscape. What are your thoughts on this?
MP: I have a Goodreads account, so I often look at other reviews of books that I've read. I'm interested in the people who have certain values that might cause them to hate a book. The other day I was looking at the 1-star reviews of Cheryl Strayed's book Wild because I was wondering why a national bestseller would have so many "failing grades." It turns out that people insert their values into the work: they hate drugs or hook-ups or that the author didn't do more for others rather than herself. I have yet to read Wild, but I found it fascinating that readers would be so hostile toward Strayed, whom they've never met, especially given that the book is a memoir (and not a character that an author could have changed). Goodreads is also a great place for a mixture of media; reviewers can add pictures, gifs, links to personal blogs or other websites, or create a video. Such reviews increase readability (such as Katrina Passick Lumsden who reviewed the Fifty Shades trilogy using gifs and pictures and has almost 12,000 "likes" from other Goodreads members on just those books). Of course, a big reason why I love Goodreads is that we don't have to wait for the New York Times Book Review (among others) section to come out just to find that 1 woman is reviewed, or that no women were reviewers.
JL: What have you read recently that really blew your mind? And what have you read that was really different from other books out there?
MP: Jen Michalski's The Tide King was a real page-turner for me. I'm sure others have noticed that a lot of small press fiction books are collections, so really sinking into a small press novel is exciting for me. I felt the characters were believable (no matter how unbelievable), the plot was balanced and unpredictable, and it began and ended in really satisfying places. I was nervous to read/review this book, as it was written by the editor at JMWW, but if your editor is a good writer, then you shouldn't be afraid. A book that was really different from others out there that I read was Scott Wroble's Cul de Sac. I frequently teach a class called "The Twisted Domestic" at an all-women's college, and it was hard to find a male perspective in domesticity. Wroble brings alive families and fathers in a way I hadn't expected.
JL: And are you currently working on any writing projects yourself?
MP: I recently started a new story about a woman who is dead-set on weighing the same number every day, but she then inexplicably starts to grow in size; however, no one else notices. It's very internal to the woman, and she has strong emotional reactions to the situation and how others respond (or don't) to her.
JL: Plus, do you have anything else you'd like to talk about or anything else that you'd like to share?

MP: If people want updates on reviews at Grab the Lapels, they can "like" the site on Facebook. If anyone is interested in having their book reviewed, please fill out the comment section on the "About" page at the site, which is GrabTheLapels.weebly.com.
***
Melanie Page is a graduate of the Notre Dame MFA program. She teaches fiction, writing, and fiction writing. She digs women's flat-track roller derby, stand-up comedy, and arguing about publishing on Goodreads.
Tags: Grab the Lapels, Melanie Page
3 Comments
September 28th, 2013 / 9:39 am kuaikuai773—
July 10th, 2014 / 12:53 pm natural weight loss pills—

natural weight loss pills

Interview w/ Melanie Page of Grab the Lapels | HTMLGIANT

September 17th, 2019 / 10:55 am Links to Work by Contemporary Women Writers – Two Songbirdspress—

[…] reviewing women prose writers on her site Grab the Lapels since the summer of 2013. In the interview she gave to HTML Giant last year she explains, "I started only choosing books by women after I reviewed a book that […]