Lily Hoang
Dreams dreaming drone drum ho hum
Look at these cute golden retriever puppies. They're probably dreaming. That's cute. I like that.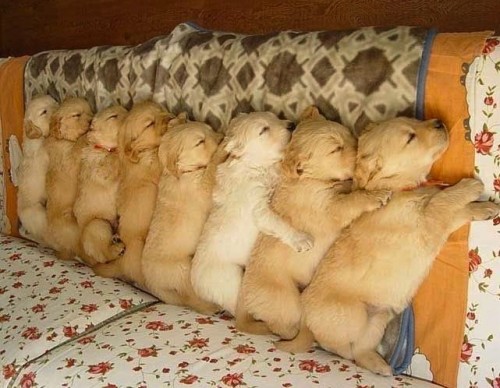 But this post is not about golden retriever puppies.
Yeah, so last night, I had a dream. I died, but it wasn't bad. I went to some version of afterlife. I went down an elevator (cliche, anyone?). Someone tried to escape by jumping out at sub-level 8. I don't know what happened to that person. I think he looked like Mike Kitchell crossed with Adam Jameson. And when I got out of the elevator, I definitely wasn't in heaven.
Or hell, surprisingly, for that matter.
It was kind of like a hotel. And everyone wore silk pajamas, cream colored with polka dots. It seemed like a pretty swell place. Kind of like a socialist utopia. Everyone had the same apartment-home with the same furnishing, and everyone wore the same comfortable clothes. And then I woke up. (Jesus, I hate that line even more than I hate dreams in fiction.)
I don't hold much – if any – stock in dreams.
And I especially hate when dreams appear in fiction, like they have significance, but really, it's just a cheap trick for writers to get across some magical realism moment or theme or some shit like that and they're too scared to put it in "real life." (But I'll admit it: I've put dreams in one of my stories and two novels. Hypocrite.)
Am I wrong about dreams? Do they have a place in fiction? And if so, what role should they play?
Tags: dreams
9 Comments