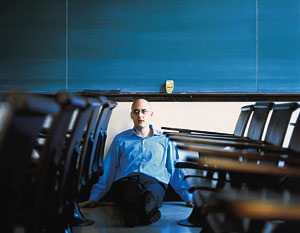 The following conversation between Colin Winnette (colinwinnette.com) and Ben Marcus (benmarcus.com) took place during the brutally mediocre winter of 2011.  Both men carved a desk along with extra elbowroom into the walls of their unnecessary ice huts and began a steady email exchange.  This was a final attempt to stay warmish.  Listed below are the contents of that attempt. Special Thanks to Cassandra Troyan   -The Eds.
Ben Marcus is the author of three books of fiction: Notable American Women, The Father Costume, and The Age of Wire and String. His new novel, The Flame Alphabet, will be published by Knopf in January of 2012. His stories, essays, and reviews have appeared in Harper's, The Paris Review, The Believer, The New York Times, Salon, McSweeney's, Time, Conjunctions, Nerve, Black Clock, Grand Street, Cabinet, Parkett, The Village Voice, Poetry, and BOMB. He is the editor of The Anchor Book of New American Short Stories, and for several years he was the fiction editor of Fence. He has recently served as the guest fiction editor for Guernica Magazine. He is a 2009 recipient of a grant for Innovative Literature from the Creative Capital Foundation. In 2008 he received the Morton Dauwen Zabel Award from the American Academy of Arts and Letters, and he has also received a Whiting Writers Award, a National Endowment for the Arts Fellowship in fiction, three Pushcart Prizes, and a fiction fellowship from the Howard Foundation of Brown University, where he taught for several years before joining the faculty at Columbia University's School of the Arts.
*Portions of this interview first appeared in the Winter 2011 issue of the Tex Gallery Review
CW:Could you talk a little about your upcoming book, The Flame Alphabet?  Its genesis and where things went from there?
BM: I'd been thinking for years about language as a toxic substance.  Language itself making people sick.  Speech and text, all of it poisonous.  If you read a road sign you get nauseous.  That was the original idea, but after Notable American Women I really didn't want to write another heavily-conceptual, modular book.  With that book, every new chapter felt like I was starting over.  I wanted to write something continuous, a straight shot powered by one voice.  I tried a lot of voices, forms, and approaches, and threw all of it away.  But then I was doing some reading on underground Jewish cults and I found a pretty natural way to connect a language toxicity to a really personal narrative, even if that meant liberal falsifications and misreadings, and a story sort of bloomed fast out of that: a husband and wife who are sickened by the speech of their daughter.  Literally.  So sickened that they have to leave her.  A situation so bad you'd have to abandon your child.  This really frightened me, and I couldn't even imagine it, which meant I had to chase it down.  That was the opening premise, and once I had that I wrote the book in just over a year.
CW: When can we expect to see the new book?
BM: Knopf is publishing it in January 2012.
CW: How do you see it fitting in with your last two books, The Age of Wire and String and Notable American Women?  Those books helped develop a reputation for you as being an "experimental" writer, but more recent work like The Moors, in a recent issue of Tin House Magazine, shows a capacity for more conventional narrative structures and imagery.  Is there a particular dialogue you're interested in developing between the works, or is each piece written for itself?
BM: I see some overlap because I seem to write about language a lot.  Language as a physical substance with deviant powers.  A powder, a drug, a wind, a medicine.  I can't really help it.  But this book is a chronological narrative told by the main character.  It's got scenes and a story and sometimes it might even be suspenseful.  It's formally a lot simpler than my other books, and it felt entirely new to me when I wrote it.  I've never written a single book-length narrative that has a clear plot.  I loved being in such strange waters.  It made me feel vulnerable and confused and completely unskilled, and this drove me crazy enough to bring everything I had to bear on the writing of it.  In the end I want to write things that I don't know how to write, because this seems to command the most energy and desire and attention from me.  It makes me sort of sick with anxiety.  When I'm uncomfortable and confused and curious I tend to try much harder to figure things out.  Some of the basic narrative building blocks, which other writers seem to have mastered early in their careers, were just totally foreign and difficult to me.  I'd dismissed them years ago for no good reason (other than fear and ineptitude).  So I used techniques I'd never used before, even though people might consider them conventional.
This issue of experimentalism is hollow to me.  I can't figure out the actual content of the problem.  I've never tried to write anything experimental, because I don't even know what that would be.  I've just written what most compels me at the time, what I'd most want to read myself.  Does anyone self-identify as experimental?  Anyone?  When Notable came out, there were people who said it wasn't experimental enough, and I'm sure I'll get that again.  But all I want to do is write something good, and not just return to familiar material or approaches.  The Flame Alphabet, to me, seems far stranger and agonizing than The Age of Wire and String—it's both weirder and sadder—but I realize that my own perspective on this hardly matters.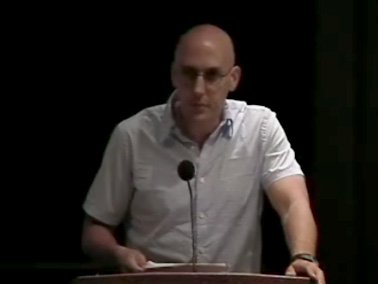 CW: Do you connect your experience as a writer, the motivational qualities of your anxiety and sickness with regard to your own language (or potential language, what you will write) to that of the husband and wife in The Flame Alphabet?  Is this something you thought about with regard to the content of the book, or is this vocabulary of sickness and anxiety something that occurred to you later on?
BM: No, these are different things.  I'm only talking about feeling vulnerable when I write so I can throw my whole self into it.  Somehow it makes me feel more attentive.
CW: There are, or at least seem to be, strong autobiographical elements in your work, particularly in Notable American Women.  But even The Age of Wire and String has a journalistic feel, if that's the right word, a sense of someone privately mapping the world.  Is this an impulse that comes out in the writing, or a conscious decision on your part to engage with a certain kind of narrative framework?
BM: I gravitate toward trying to make things seem true.  I like the autobiographical tone, if not often the content.  But those books aren't remotely autobiographical, at least in the literal sense.  Someone wrote an essay about The Age of Wire and String, declaring that it was essentially about a brother who had died, and the book was engineered to disguise and disclose the resulting pain the narrator felt.  Except my brother is alive.
CW: Tell us a little about him.  What does your brother do?
BM: He's a public defender in Los Angeles, working on death penalty cases.
CW: You've championed the work of authors like John Haskell, work that blurs the distinction between fiction/nonfiction, but your work, to me, seems less interested in any kind of narrative truth-telling.  Rather, you seem to extract what might be the emotional content of an autobiography, the confessional intimacy, and infuse it into a bizarre world of cloth, birds, masks, silence, etc., in a way that is thrilling, terrifying and eerily familiar.  What's your interest in these distinctions?  How do you negotiate fiction versus nonfiction, or are these even useful thoughts to have?
BM: I think you're right: the emotional content of autobiography.  That's it exactly.  But really, in the simplest terms, I want to create feeling.  I want to make readers feel things.  Wouldn't a lot of writers say the same thing?  And these kinds of images and stories are the best way I know how, so far.  But I am fascinated by nonfiction.  Some of my very favorite writers are essayists.  D'Agata being a huge one.  I love writing essays, and I'd love to write a novel that is structured like an essay, but I haven't figured out how to do it yet.  I have some fictional essays in the collection of stories that's coming out after The Flame Alphabet.  From my earliest pieces, I was drawn to nonfictional rhetoric.  The language of the encyclopedia, semantical authority, prose that seemed informationally inviolable.  But I guess I burned out on that after a while.  I think the interest is still in me, but until I can find a way to replenish it and do something different, I'm going to wait.
CW: You've said your work is often about language.  The Age of Wire and String, seems particularly interested in the potential for revitalization, or its malleability at least.  When you're setting out to write a book, are you interested in setting up a problem, like, say, the limits of language, and either working through it, or simply exhibiting it?  Does that kind of thing even occur to you?
BM: I don't really have to set up a problem, because there are so many problems already set up, already waiting.  I tend to find the problem half way down the first page, and if I like it, which means that it scares the shit out of me, I might keep writing.  I try to figure out the best way to trigger adrenaline, and then I look to escalate everything as quickly and believably as I can.  Tom McCarthy described Remainder as a set of escalations on a theme, and I really like that idea.
CW: What's the scariest thing you've ever written?  A line, a story, a book, a word.  If there's too much, maybe just make a short list of the first things that occur to you?
BM: Can't think of anything anymore, because it all gets neutralized pretty fast and it stops scaring me.  I'm always chasing it.  Maybe it's what I'll write next.
CW: What was the most recent thing you read that stuck with you?  Excited, terrified, disgusted, depressed, etc.  What do you find tends to most often elicit a response?
BM: New translation, by Mark Ford, of Raymond Roussel's Impressions of Africa.  About a Mountain, by John D'Agata.  Of course The Ask, by Sam Lipsyte.  Best novel of the last few years.  I'm really glad I can't answer your last question.
CW: Finally, a question about MFAs.  I imagine it's difficult to say, but what's your advice to writers considering, or pursuing, a graduate degree, a second graduate degree?  Could you talk a little bit about your experience at Columbia?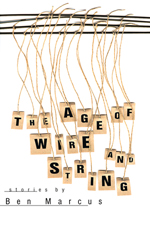 BM: I think writers should do exactly what they need to do to get their work done, whether that means going to school, going abroad, taking a job on a tanker, licking men's backs, or hiding in an attic.  Lots of writers thrive in the MFA atmosphere: tons of critical feedback, heavy reading, broad exposure to different kinds of writing.  But other writers don't really get much out of that kind of community.  To me it's about knowing what you want, understanding what might help you develop.  Some programs revolve around the workshop, with some low-impact electives in the background.  Other programs have a rigorous curriculum on top of the workshop with lots of craft-based courses.  Again, it depends on the writer.  What I love most about Columbia are the students.  Year after year there are intense, curious, hard-working students, and they are all different.  I feel lucky to be around people who care so much about writing, who want so much to improve, and who test out their instincts so fearlessly.  This is the best part of the job: a community of people with the same passion.
CW: Annnnnd, had to ask, how was it working with James Franco?  Any workshop stories worth telling?
BM: James was a great student.  Serious and hard-working, hugely committed to his writing.  He's well-read, curious, and incredibly productive, and it's been great to watch his work develop.  The novel he's working on now is pretty fascinating.  Can't say any more than that.
CW: Thanks for talking with me, Ben.  Anything more you want to say before we go?  Anything you wish I'd asked?
BM: …
***
Ben Marcus will give a reading from his forthcoming novel The Flame Alphabet at Tex Gallery in Denton, TX on Saturday, April 2nd, 2011 at 9pm.
(texgallery.org, or check facebook for more info, and visit Colin Winnette here)
Tags: ben marcus, The Flame Alphabet