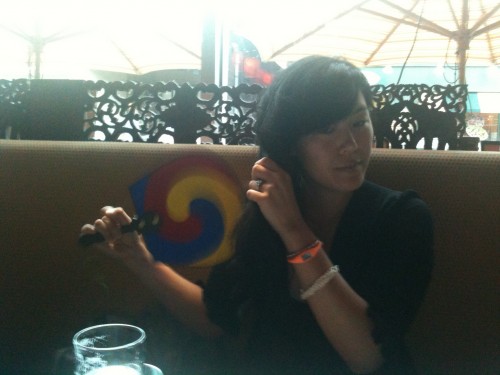 Today Sueyeun Juliette Lee shares some of her summer reads:
***
We Come Elemental by Tamiko Beyer (Alice James Books, 2013)
I'm very excited about this text. A queer ecopoetical exploration of landscape and being, of bodies and transformations all set in relation. I'm very interested in these ideas, in how we collaborate with our environments…how our bodies are practices set loose among a landscape that is constantly being iterated with us.
I think Tamiko is a FREAKING GREAT poet and someone I've had my eyes on for a while. She actually once submitted a short manuscript for Corollary, and it got snatched up elsewhere!! That's what happens when I move at glacial speed. Sigh. But I'm super excited her work is getting more attention. She's a major player!!!
Impressions of Africa by Raymond Roussel and Death and the Labryinth by Michel Foucault
An old friend of mine used to LOVE Roussel. I resisted reading him for a long time, and I've dipped in and out, but I'm ready to make a little study. I'm stymied by the fact that I don't read/speak French, and I think to really appreciate all of Roussel's language games, you have to have a nuanced understanding of French syntax and vocabulary. That said, I think the dissonance in reading Roussel in English will still be of interest, and having Foucault's study of Roussel's writing strategies can help illuminate some of the conceptual parameters and frameworks Roussel was working in.
I'm not someone who uses much language "play," per se in my work, but it's something I'm of course very interested in. What writer isn't?!?! Some of my friends and former classmates write this way–I'm thinking of Lawrence Giffin and Steve Zultanski. And they do it so elegantly–with wit, irreverence, but also devastation there, too. A quick plug–Zultanski's Agony (BookThug) and Giffin's Christian Name (Ugly Duckling) are AWESOME and so devastating in their own ways. I was surprised by the depth of feeling these works actually evoked in me.
The Elric Saga by Michael Moorcock
Okay, I'm totally letting my geek flag fly with this one. I LOVE pulp-ish fantasy novels! And the Elric saga is so intriguing to me because it's SO COMPLETELY NOT about happy times and maintaining social order or how "good" always wins. The lead character comes from a corrupt, decadent society at the end of its empire. He's also an albino and a sorcerer, which is pretty freaking hot, and madly insane for his first cousin, which isn't technically incest but close enough. He's world weary, a bit of a nihilist, and a poet scholar, when it comes down to it. And he's DOOMED. Totally doomed. Oh, and he wields a magical sword that he has to crawl through a hellish vagina for. Seriously.
I'm interested in this because there's talk of a film series being made about it, and frankly, I think we are ripe for it. There are all these INCREDIBLY problematic superhero films being put out there that support such completely f*cked up race/empire/militarist/state logics that I just puke in my mouth when I see the trailers. But I could get behind a demonic-sorcerer-poet-nihilist guy. Yup.
***
Sueyeun Juliette Lee grew up three miles from the CIA and lives in Philadelphia. She edits Corollary Press, a chapbook series devoted to multi-ethnic innovative writing, writes reviews for The Constant Critic, and is a contributing editor at EOAGH. Her books include That Gorgeous Feeling (Coconut Press) and Underground National (Factory School). Her most recent chapbooks are A Primary Mother (Least Weasel Series at Propolis Press) and No Comet, That Serpent in the Sky Means Noise (Black Warrior Review). You can find her at silentbroadcast.com.
Tags: reading list, Sueyeun Juliette Lee, summer reads