Jimmy Chen
I like Howards End a lot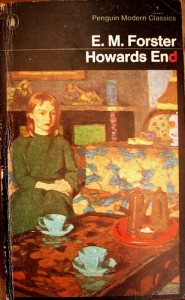 I wouldn't say "I like E.M. Forster a lot" because I was not thrilled by his other books, it's just that Howards End was really good.
I usually have trouble with English novels because the whole 'class' thing is so beyond/behind me. Everybody says Evelyn Waugh is great, but I tried his books a number of times, and gave up mid-way. It's clever, but not haha funny. I can't comment on Henry James because it's too dense for me. I have a feeling it's really good, but I just don't get it. But Howard's End was so surprisingly 'modern'; I felt throughout the entire book, 'wow, this is really good and exciting.'
More after the break…(I hope I'm doing it right, first time…)
(I'm having trouble talking about the book because it's so popular and I don't want to seem pedantic or indulgent, but…) The book is about two families becoming one and their relationship to a place. There's the typical 'character = x class,' and marriage and wealth issues sprinkled with sporadic climactic violence, and while that stuff is not necessarily boring, it's just not interesting to talk about at this point in literature discourse.
In terms of context, E.M. Forster precedes Virginia Woolf and James Joyce by about a decade, and in my opinion, is not given the credit for summoning many of the latter two's fluid-type mental-space attributes. Nowhere in Howards End is there any stream of consciousness, but there is a use of guiding the reader through 'disparate spaces' via a mental disposition which the writer cultivates in the reader, which is what I think led to a huge break in writing in the early twentieth century. That's why I say it's surprisingly modern (when compared to contemporaries like Conrad). Also, Zadie Smith's On Beauty is supposed to be an homage or modern retelling of the story, but I haven't read it so I can't talk about it.

Own of my favorite scenes follows Leonard Bast back to his home from the city. There is a blur between Bast's actions and thoughts; a blur between the author's 'authority' and the reader's impressions; it's all mixed together into one big batch of messy 'language being,' and I was like "wtf, this was written in 1910?"
Of course, that was only one scene, and most of the book was much 'tamer,' though I have one last point: Raymond Carver, Lorrie Moore, (and I would even say Salinger) were/are masters of describing feelings without actually describing them. It's like the protagonist is not a character, but an unnamed feeling. Well, Howards End did that too really well. The book is so full of abnegation and indignation — never mentioned, just felt. It's just so contemporary and I often think about that book and I liked it a lot.
Tags: E.M. Forster, Howards End
14 Comments