Guest Post: Gene Kwak
{LMC}: A Conversation with Robert J. Baumann and Iris Moulton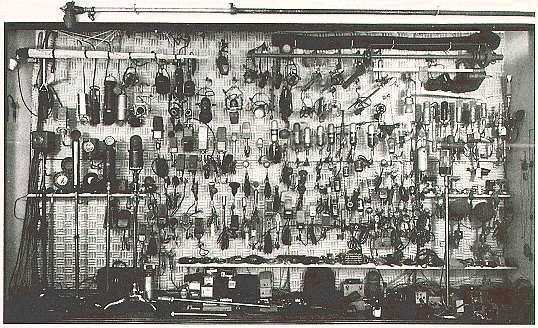 We have a pair of interviews with the editors of Beecher's. First up, Gene Kwak talks with Robert J. Baumann and Iris Moulton. Next week, Roxane talks with Chloe Cooper Jones, Ben Pfeiffer, and Daniel Rolf.
—
Beecher's One is a beautiful, gun-covered thing. A good gander will give you an eyeful of clean living and slick word wizardry. You get the sense that the editors want to wrap readers in a thick-knit blanket of play. I had some questions for my own pondering and figured the LMC was as good a reason as any to poke a stick at a thing. How often do you get to ask editors to flash their thought bubbles? Equally, I wondered about future space and word games and figured maybe they'd shed light on issues two and beyond. I had some high hopes of my own (in short, that going forward they include a few longer fiction pieces and mix in some non-fiction), but I hesitate to say anything as it's issue one and give people a break, yunno? Here's the dig between two fine poetry editors, Iris Moulton (former Asst. Poetry Editor, now Beecher's co-Editor-in-Chief) and Robert J. Baumann (former Poetry Editor, now a bookslinger at the renowned Woodland Pattern). They were entirely too gracious.
Gene Kwak: First off, when I read through Beecher's I kept on thinking the word playful. Some might see that as a knock, but I wasn't thinking of it that way. Playfulness that was sometimes dark, sometimes sly, but playful nonetheless. I also liked how this playfulness contrasted the austere, but slick, look of the magazine. When you set out to craft the magazine what were your initial goals? Let it cohere based on what you receive? Solicit some of your favorite writers? And how do you think that might change in the coming issues with a deepening slush pile?
Iris Moulton: Because we are such a young magazine, we relied heavily on solicitation for the first issue. This is certainly not unusual.  As the current co-Editor, I can say that almost each time I open our slush account I find work that is really exciting. Though we are still actively soliciting our favorite writers, it's anyone's game now.
Robert J. Baumann: I think the idea behind having editors for each of the "genres" was to have some cohesion within genre, if not throughout the entire magazine. Iris and I both solicited work from people whose writing we liked, and encouraged others to submit. We had a decent amount of slush for a start-up, it seems to me, and we were able to find a couple of things from slush that seemed to fit pretty well with our aesthetic preferences in poetry; those are the ones we took. There were a few other slush submissions that I could tell would have been pretty good in their own realms, or to the eyes/ears of other editors, but I didn't really like them.
I embrace playful. It's a big part of what I love in other people's poetry. Much of the poetry that I have been finding resonant in the last few years (the work of people like Adam Robinson, Jennifer Knox, Mike Young, Anne Boyer, and Mike Hauser, to name a few) has a lot of playfulness to it. What I mean by playful in this case is constant cycling through and mixing up of intelligence, absurdity, earnestness, worldliness, and unsuredness. I made that last word up. Like, you see in Adam's work a great breadth of knowledge, but also insecurity about his own handle on that knowledge, and also the realization that such insecurity is absurd and insignificant, and also a great love for words and people and jokes. His ear is strange, but it's strong. That's what I like.
I like to call Adam, "Papa Robinson."
GK: There are a lot of prose poems nestled up against very short fiction pieces. Without delving into the whole what makes a prose-poem vis-à-vis a piece of flash fiction conversation, was this done purposefully and did you consider not even breaking them into their separate "fiction" and "poetry" categories, perhaps letting the reader suss it out for him/herself? Also there are interviews and snatches of comics included, but are there any plans on expanding into essays or other forms of visual art?
IM: In reading some of my favorite literary magazines (Black Warrior Review comes to mind, and this is also true of Indiana Review and Fugue), I often don't know if I'm reading a poem unless I flip to the table of contents to see how it's been categorized. With some online publications, such as Everyday Genius, a reader often never learns how the writer may think of the piece (prose poetry, flash fiction, whatever else we can think to call it). While creating Beecher's, our priority was always on the quality of the work, and on efforts to compile work that was exciting. I recall conversations specifically about never wanting to have to worry about how to categorize things like this, but in the end I think, as simplistic as it sounds, the submission process did that for us—the writer chose a submission category, and that determined how it was listed in the table of contents.
Beecher's welcomes submissions of fiction, poetry, and all kinds of non-fiction, including essays. Though we haven't received many submissions of essays yet, we would certainly love to publish excellent and thoughtful pieces. I would have to defer to Daniel Rolf and his design team on the question of including visual art in the magazine. We do have plans to—eventually—expand to include online content on our website, and perhaps this could one day include visual art. We're still a fledgling publication, and are making efforts to get our feet securely under us before we start reaching in too many directions.
RJB: My impression is that we just wanted it to feel balanced. I didn't really have a lot of input on the order of things—I think Chloé had a lot to say about that, and Dan Rolf probably had a lot of input based on the design elements. I actually talked with Dan about that, having done some book layout myself—how important it is to have something sit right on a page, when it is nestled among other pages. He put a lot of thought into the ToC, which is already being commented upon on HTMLGIANT.
On a related note, when I was soliciting, I made sure to ask the "poets" for "pieces" or just for "something" as opposed to "poems" specifically. I solicited a collaborative piece from Dana Ward & Stephanie Young, and what they gave me looks nothing like poetry, though it might have some of the same effects (disorientation?). It's sad to say, but sometimes, for me, the very word poem has unattractive connotations, limiting connotations. The idea of being a "poet" can be downright disgusting when applied in certain contexts or said in certain tones. To me, poetry/poem/poet is starting to suggest something beyond genre, but I don't know how to word what that is—not yet. I think that discomfort with those terms is reflected in my aesthetics.
I really like the fact that readers are pleased with the physical product of Beecher's One; to me, a big part of that is not just the paper and the binding and the layout, but how the pieces nest. If you can't figure out if something is a short short or a prose poem or a Ward & Young hot mess, does it matter? You're in a new place after reading it, or even looking at it, and I feel comfortable saying that.
GK: Obviously a new magazine has to solicit at first before gaining momentum from submissions, but in that process, how did the magazine go about getting shaped? Did you just ask a slew of favorite writers for work or did you receive a particular piece and then accept/reject pieces based on the first few initial acceptances?
IM: I think Robert can speak more fully to this. As the assistant poetry editor, I solicited some of my favorite poets while keeping in mind Robert's vision for the section. I would occasionally send emails asking him to reiterate his priorities for the poetry for that issue. I wanted to work within his parameters.
RJB: Iris and I both asked people, but even all the people we asked (or at least all the people I asked—I don't know about Iris's peeps) didn't make it into the magazine. There were some poems that I liked from people that I asked and even from the slush that we couldn't take based on space issues (if not editorial differences).
Some poets gave me a good number of poems that I got to choose from. Let me tell you, that's the best thing when you solicit stuff as a poetry editor—getting a shitload of pieces to choose from: with more stuff, the chances of getting something you really, really love are higher. Even people whose work you like, they're going to have plenty of pieces that you don't like, and being a startup magazine, maybe there's a greater risk that "established" people send you their "lesser" stuff. But when people gave me a bigger selection I felt relieved because that let me pick something that I felt pretty good about. Then, I didn't have to say, "Um, I know I solicited you, but this poem you sent really sucks." That's maybe my biggest fear as an editor, having to say that. But I'm an old softy.
GK: Can you talk about a favorite poem and why it particularly grabbed you?
IM: This is a hard question. I have some real favorites in this issue. I am such a fan of the poetry of Justin Runge. The pieces that appear in Beecher's are these neat little columns on the page, so beautiful even just visually, but inside the tidy border is a hive of startling activity. Maybe that's why I particularly love the last two pieces of the issue, how the meaning and image unrolls word by word, and so unexpectedly, and how the two poems fit together: the bumblebee pin leading into the buzzing speakers.
Rebecca Wadlinger has long been on my list of poets that I wanted to publish, so I was so thrilled to have her work in Beecher's. It's hard to pick a favorite: "Mrs. Mayfield And The Museum Of Bodies" and "In The Morning I Tell Gertrude Some Things I Like, But She Is In A Serious Mood." She is so dark and so funny, two of my favorite things, and I am always, always surprised by what I read from her. "I'm a tooth that shakes "No" until I come loose"? Forget about it.
RJB: I'm partial to the collaborative piece by Stephanie Young and Dana Ward. I had to text or email Stephanie a number of times to keep a fire under her, because we were getting really close to print deadline and we'd reserved a good chunk of space in the layout for this thing that I hadn't even seen. That shows you how much I like Dana and Steph's work, I guess. I had no idea what it was going to look like, but I had already told other people that we couldn't take pieces that I wanted because of space issues.
Beyond that, the piece is singular. It defies genre, which is fun, but it's both intensely personal for the poets, as individuals and as good friends of each other, and at the same time reaches relevantly into the world in so many ways. I was writing a long poem at the time I first read this piece and I had to stop, because they did everything I was trying to do, but did it way better. In that sense, I can see how being an editor more consistently would make me stop writing altogether.
GK: Beecher's has the handmade qualities of a zine but is connected to the KU MFA/PhD program. Can you talk about why the editors felt this partnership was necessary? What came first, the partnership with the program or the magazine? And was there discussion w/r/t aesthetics and the disconnect between the DIY styling of Beecher's and the typical university-backed glossy literary magazine?
IM: The conversation about starting a student-run magazine within the English Department happened first. We began talking about it with faculty and students during my first semester here at KU, and I got the impression that the conversation had been happening well before I'd arrived. We looked around and saw a lot of talented writers at KU, and a lot of writers who had interest in getting editorial experience, and thought it seemed like a natural thing to do. Working with the university was not a necessary partnership, but one of our goals has been to provide future students with the chance to run their own magazine, so we thought we'd give it a try. Ultimately, an incredible journal emerged, and to do this with faculty support has actually made a big difference in our lives. It would have been a lot easier (and faster) to not affiliate with a university, and therefore not take an inclusive approach to the creation of the magazine. It would have been much easier to work with less than a handful of people—less email chains, fewer opinions, less things to keep track of. But hopefully this will be there for future students at KU, and hopefully it keeps being pretty great.
We were all in agreement about wanting a beautiful object. I'm sure anyone can imagine the conversations that we had about the role of writing and technology and the saturation of the market. We wanted to make something that stood out, another reason to own Beecher's besides the excellent writing, which a lot of journals also offer. And though we emphasize the object, the work in Beecher's holds its own.
RJB: Iris knows a lot more about the partnership than I do, as she was integral (with a few of the other editors) in making the connection with the English Department/MFA program.
Regarding the DIY vs. "typical university-backed glossy literary magazine": For me, personally, I didn't want to go the glossy route, and neither did designer Dan Rolf. All the editors had a discussion very early on about what the magazine would look like; at that meeting, Dan and I started talking about making a grittier object, exposed, types of paper, etc. and everyone else was down with that. We even toyed with the idea of just printing the signatures and hand-sewing them, but we sort of ran out of time for that. We also discussed changing forms each issue—the next Beecher's will look nothing like the first, if I'm not mistaken. It keeps people interested on a visceral level, I guess.
So, we never even considered the glossy. There was, from the beginning, an emphasis on Beecher's being an object. After that initially discussion, though, I think Dan just sort of ran with it. The rest of us just sort of approved.
I think another part of it is that we all had a sense of ourselves as writers and artists outside of the MFA program, and so we wanted to preserve that, not be only a university thing. That's also evident in the name of the magazine—we ruled out using "journal" or "review" in the title. It was more important to be tied to the place that we were all in (Lawrence, KS) than a program or school. The amazing thing is that the English Department still wanted to contribute funding, though it was made clear that the continuance of that funding was not at all guaranteed, and would be dependent on a number of things.
GK: Lastly, how is Beecher's going to expand beyond its pages to the real-world lit community both in Lawrence and beyond?
IM: Beecher's is fortunate to have a close relationship with Parcel, another magazine based in here Lawrence. As you can imagine, we share some of the same readership here, attend one another's events, and are really excited about co-hosting a reading during the upcoming AWP.
Our goal has always been to publish the best writing we can find. This began with solicitation, but now we are getting great submissions from all over the world. Since this magazine will have an ever-changing editorial board, it will likely experience a shifting aesthetic and shifting priorities and ideas. So, we'll probably end up connecting ourselves to several lit communities over the course of the life of Beecher's.
—
Gene Kwak is from Omaha, Nebraska.
Iris Moulton was born and raised in Salt Lake City, Utah, where she studied English Literature and Anthropology at the University of Utah. She now lives in Lawrence, Kansas, where she is pursuing an MFA in Creative Writing and works as the co-Editor-in-Chief for Beecher's. She has most recently been published in Parcel, Fugue, Everyday Genius, and appeared as a featured writer for the American Short Fiction web exclusive series. For more: irismoulton.com
Robert J. Baumann works at Woodland Pattern Book Center in Milwaukee, Wisconsin, where he has been employed in three separate stints since 2003. He has also lived in Pullman, Washington and Lawrence, Kansas in that time, during which he's had the privilege of living and working amongst many talented writers, musicians, and artists.
One Comment
November 28th, 2011 / 10:58 pm marshall—