April 9th, 2009 / 2:04 am
Mean
Ryan Call
Mean Thursday: #VALUE!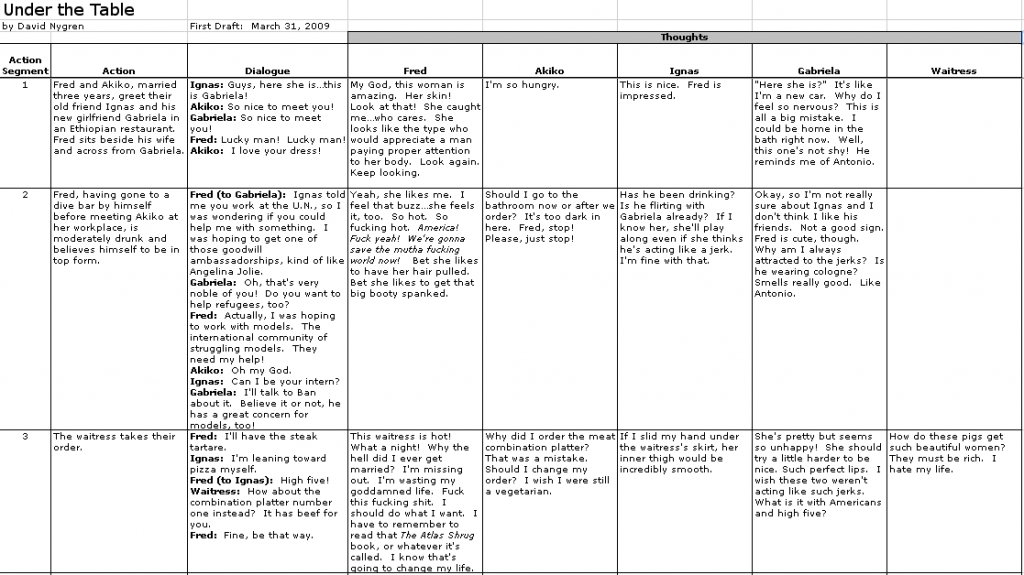 I don't know if you've read about this anywhere, but via Galleycat a few weeks ago I clicked on a link to a downloadable story written in an Excel spreadsheet. It's author, David Nygren, wrote a story and typed its various parts into columns.
Reactions on the internet have been, um, confusingly positive, based on my lazy web browsing. 10,000 people have downloaded the story. The comments section at his blog is full of praise. Other blogs and sites link to it. Even a blogger for The New Yorker picked it up, though she was deadpan in her post:
A writer has "built" a short story using an Excel spreadsheet divided into three columns: one for action, one for dialogue, and one for internal monologue.
I wonder how tempted she was to put those quotation marks around writer.
Sorry, David. I'm just teasin' ya!
Anyhow, I'd like to try to offer an intelligent post to temper all of the madhouse raving.
In my opinion, this exercise (it's unremarkably titled "Under The Table") is interesting for only two things: it hints at Excel's potential for fictional formula-building and it has great collaborative possibility. Of the first, Chris Martin, a commentor over at David's blog, writes:
…my problem is that your short story wasn't intrinsic to Excel. Excel is about numbers and formulas and functions. What's more, Excel is a fundamentally interactive experience – you don't just look passively at a sheet of numbers, you input them and alter them to see new results. I would have loved to see you play not just with the form of concurrent narration (which has been done using just plaintext, without the need for Excel, though Excel does formalise it well) but with the medium of Excel itself. 
David seems to have not taken the project far enough yet. The story itself is, as Chris Martin says, relatively passive. Interaction comes from the reader's having to decide how to read the story, but that's about it. I don't know how one might create formulas that work within a text like the story he's got, but someone else could figure that out maybe; it would be far more exciting. As for collaboration, there's not really any. I realize it was probably not David's intention to collaborate in the exact sense of the word, but it seems like this sort of thing is just perfect for it. What might be great is some sort of exquisite corpse thing. Anyhow, David shared the story on Google Docs with anyone who cared to be shared with, and he's invited people to suggest revisions, but he says "All suggestions/edits will be considered and greatly appreciated. However, I remain the master of this particular short story spreadsheet." He goes on to kindly give us permission to write our very own short story spreadsheet, and even asks us to send it to him so he can put it in a big file.
Unfortunately, the story itself is fairly boring and overdone, which I suppose you can justify with the argument that those little spreadsheet cells don't have room for subtlety. But one would hope that restriction could create some really odd and mysterious language. Also, this is a first draft, which David emphasizes in his post, so apologies for my taking it as finished product. But really, people, I don't see what's so "brilliant" and "nicely done!" about the following two sentences, which appear in the cell under Ignas' Thoughts:
This is nice. Fred is impressed.
Even more painful are Fred's thoughts:
My God, this woman is amazing. Her skin! Look at that! She caught me…who cares. She looks like the type who would appreciate a man paying proper attention to her body.
Much of the writing is awfully wooden like that. So for me, I think, innovation of form doesn't matter if the way the words fit together is uninteresting to me. I disagree with David's saying that he thinks this story "only has potential to be effective in the short storyspreadsheet format." You could simply rearrange the elements into paragraphs, cut them up, place dialogue where appropriate, incorporate actions and thoughts and so on, and you'd have the same terrible short story. So it's not a question of form and effectiveness at all; it comes down to the quality of the writing, and here it's lacking. This lack affects how each column works together as well; because the writing is rather uninteresting to me, I don't see how each block of text pushes against the others. Notice how the text is static, the same, etc. across each column. The title suggests that this is an attempt to get at the underlying tensions between the characters and how they interact, but even those internal bits come across as a superficial treatment. I get the sense that I'm reading through a checklist: every action must be justified and every character must think a rational thought that explains his or her action.
So at the moment, the entire project reads like a storyboard, or rough outline, or some organizational prewriting exercise, rather than a new 'form.' It certainly is a start (several commentors said they hoped to use it to plan their own stories), but I'm not yet convinced of its worth beyond that.
So I'm curious to hear others' opinions; if you've read this and have a different take, let's hear it.
Also, I'm interested to see some examples of good, formal writing that functions in the manner of David's project; I'm tired and I can't think of anything at the moment, aside from a wonderful story by Alexandra Chasin titled "Towards a Grammar of Guilt," which makes use of sentence diagramming to tell of the aftermath of 9/11. I couldn't find a link to it though; if only The Capilano Review had it online. Instead, I'll send you to friend Matt Bell's recent story at Conjunctions: "An Index of How Our Family Was Killed."
Goodnight.
Tags: Excel
29 Comments