Mean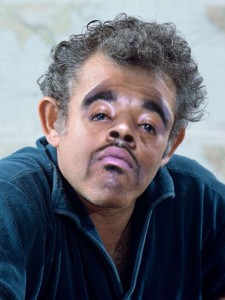 My favorite NBA player, Larry Johnson, had a gold front tooth, yelled at the ball during free throws, once told an interviewer that his diet consisted of soda and candy (imagine reading this as a teenager) and had a series of TV commercials where he transformed into his alter-ego: a gray-wig wearing, puffy flower dress clad, narrow vintage glasses wearing, "Grandmama." I fondly remember wearing his replica jersey (the very first of these ever for sale) several sizes too large, more dress than jersey.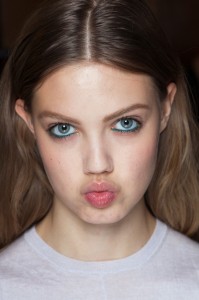 Lindsey Wixson is primarily known in the fashion industry for her unique look: her dramatic lips, playful pout and her trademark gap between her two front teeth. The public narrative Wixson and her representatives have crafted for her is a rather detailed one, even providing information about the dreams and aspirations of the young woman had she followed a different path. During her childhood Wixson wanted to follow a culinary or legal career.
Her professional goals became exclusively fashion-oriented in the brief outpour of success that occurred after Steven Meisel chose her for the cover of Italian Vogue. After the cover, Wixson was booked for two luxury brands, Prada and Miu-Miu, both as exclusives. Ever since, she is a widely recognized face and prominent model.
In an interview with WWD, Wixson discussed how she understands her path and her ascend to success. She single-handedly cites reading a Reader's Digest (RIP!) in a bathroom when she was 12 as the catalyst for her pursuit to become a model: "It was about how Bill Gates — the millionaires — got big. It was talking about how they took the chance and they took their opportunities and they took it to a whole other level."
*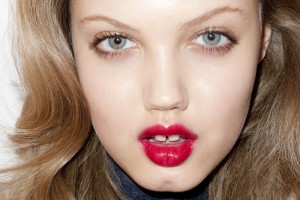 Do you ever look around at the world, noticing the people surrounding you? Wondering how they understand their existence, how their brain functions and to what degree their understanding of things is similar to yours?
I do. That is why this video-mosaic of the famous model Lindsey Wixson is possibly the most fascinating thing I have seen in the recent past. It bewilders me to see her and her responses to reporters asking her questions about her experience and opinions as she is preparing for fashion shows. Within about a minute, Wixson manages to fit these gems:
The colors today are gonna wake up. They're going to be, like, 'WAKE UP, GUYS!'
BEAAAAUUUTIFULLLL! Oh my god, look at this dress! It's Roberto Cavalli, it's crazy!
It's over the top, glamour, period-retro
I would like to become a pilot.
I feel like a woman from Mars… Obviously, I am, like, taking over the world. Pedal to the medal!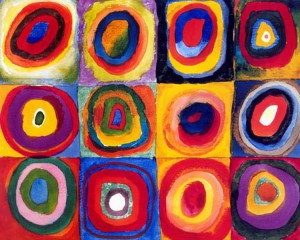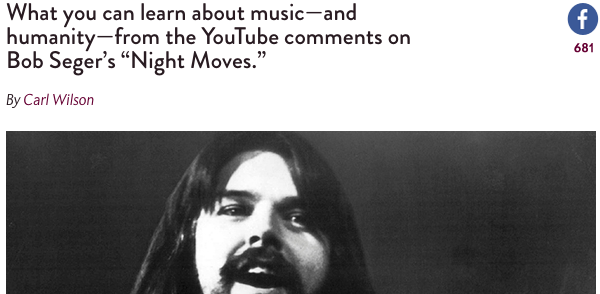 At Slate, Carl Wilson wrote brilliantly about Youtube comments and Stephanie Barber's book, Night Moves, a transcription of the Youtube comments to Bob Seger's song "Night Moves." Here are the comments from that article:
Youtube aside, Bob Segar is truly one of the greats. Soulful, rockin' and a great songwriter. One of the few who is equally believable as an all out rocker and as a tender, wistful balladeer. One of the greatest singers ever. He deserves to be mentioned in the same breath with Sam Cooke, Sinatra, Ella, Elvis and Aretha.
Coincidentally, Bob Segar was my very first real rock concert. I was 15 and I was blown away.
Side point to address the old vs new music conversation downthread: It is true that I will never experience music like I did with my 15 year old heart and all my musical memories are filtered through that 15 year old head that I lived in.
But now, I can listen to music with a knowledge and an understanding that I didn't have then.
And I love that old stuff, but there is great new stuff too!
The Shins, Blind Pilot, Death Cab, Bob Schneider, Uncle Lucius, Black Keys, fun. and lots of others. Some will say that some of these are too derivative, but all music is derivative.
Sinatra, Thelonius Monk, Abba, Segar there are many, many more great musicians, singers, producers and songwriters in every generation.
To dismiss the current or the old as crap is the mark of a philistine who doesn't really love music. They only love what music represents to them. Their youth,
And that applies equally to the fogies and the kids.
***

See, I always heard this on the radio as night NEWS.  I knew what the song was about. I just figured he was banging the girl working on the school newspaper with him.
***
Mike Young
—
"Perhaps if I avoid critical reviews (not merely negative ones), what I acknowledge is that I am afraid that I will actually be read carefully, deeply, and that the results will complicate my endeavor. But surely a complication of that sort could materialize (with any luck) in one's very next poems. It might improve them."
— Joshua Marie Wilkinson's thoughts on poetry criticism over at The Volta are I think legitimately splendid, of a shiny clarity, and they make me feel shitty about how often I've let opportunities/invitations to do more nuanced critical work slip by because they promised to take more time/work than manic imploring.
Rauan Klassnik
—
Over at a mock Poetry Foundation Jim Behrle's chimed in about the Kill List: his being upset about it, among other things, as well as his attempts to contact the publisher(s) to see if they'd "comment on any efforts they made to fact check the poem?"
I mean, really? Really? And I'm with Mark Johnson 1000 literal (ha ha) % when he says that Behrle's piece is "so embarrassing."
And how embarrassing, also, the way in which so many others have reacted to this Kill List. And how embarrassing, also, that CAConrad's heaped abuse on Mark for speaking up in the poem's defense, comparing (after other insults) Mark's "stupidity" to the "plaque on very filthy teeth."
And how embarrassing (but not surprising) that Conrad's little drones let him get away with shit like this.
This Kill List's turned out to be a great litmus test, indeed. Blah, blah.
Mike Meginnis
—
You don't have to write. You don't need it like the air. You do have a choice. You could stop at any time. In all likelihood, no one would be sorry if you did. It would be fine. It might even make you happier. And isn't that all for the best? Wouldn't you rather choose how to spend your only life than have it chosen for you?
The one semester I was lucky enough to teach creative writing, the last project I gave my students was to make the most beautiful thing they could imagine. Practically no one wrote a story or a poem. Someone is giving you the same assignment.