October 16th, 2008 / 1:04 pm
Presses
Blake Butler
Brandon Shimoda's THE INLAND SEA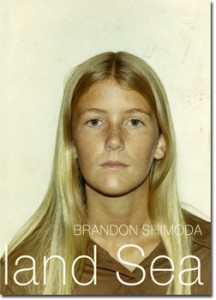 Now available for preorder from Tarpaulin Sky Books is Brandon Shimoda's THE INLAND SEA, which is 40 pages of poem with a killer cover (covers, like teeth blood, do matter). I've always liked Brandon's work I've seen around, and so am interested to see how this one comes together in palpable form.
Here's the jacket description:
In remembrance of and in thinking through the grand and generative compromises of birth, migration, dementia, sacrifice and ancestor worship, The Inland Sea is a raveling entreaty for the life of both a family departed and a family spectrally present in both complex breath and body. Spiritually addressed to Midori Shimoda, as well as factually to the inland seascapes of his birth (Hiroshima, Japan, thrice, in 1909, 1910 and 1911) and death (Lake Norman, North Carolina, the United States, once, 1996), The Inland Sea navigates the substance between origination and departure, in an attempt to find a relic of responsible and radiant life outside of benighted time. Composed of doubts, dissolutions, laments and a widening circumference of water and hope, The Inland Sea is a soft, yet urgent, ceremony, through which the ruptures of the past might find celebratory echo, and keep—
I like TSky's books, this should be no exception.
Next post is mean, promise.
Tags: brandon shimoda, tarpaulin sky
15 Comments