September 3rd, 2009 / 9:02 am
Presses
Adam Robinson
That's a Wilde form for a novel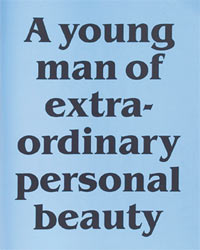 [Via The Book Design Review]
This is the cover of a new version of The Picture of Dorian Gray published by Four Corners Books in London. It's published like a magazine, I guess cuz first it was published in a magazine. Any good books coming out in magazines nowadays? Is everybody enjoying Shya Scanlon's "book," Forecast? (Speaking of nice design and serialized novels?)
I mean, get outta town, that's the cover of the book. It's got a nasty font and a word-
break and it don't got the title or author or nothing.
Fn-A right, that's pretty dang wapow. (Even it was reviewed in Financial Times.) I gotta go back to school.
I checked out Four Corners. They have other awesome looking books.
Tags: four corners, shya scanlon
8 Comments