Blake Butler
Theater-State by Jack Boettcher
Brand new for preorder pending a later summer release is Jack Boettcher's Theater-State, a book I've been hearing about and anticipating for quite some time. The second book from the NYC/Atlanta based Blue Square Press, this is one you should support early and pregrab a copy of: the quality of their first release, and the subsequent word on Jack's book guarantees it's going to shred. Check it: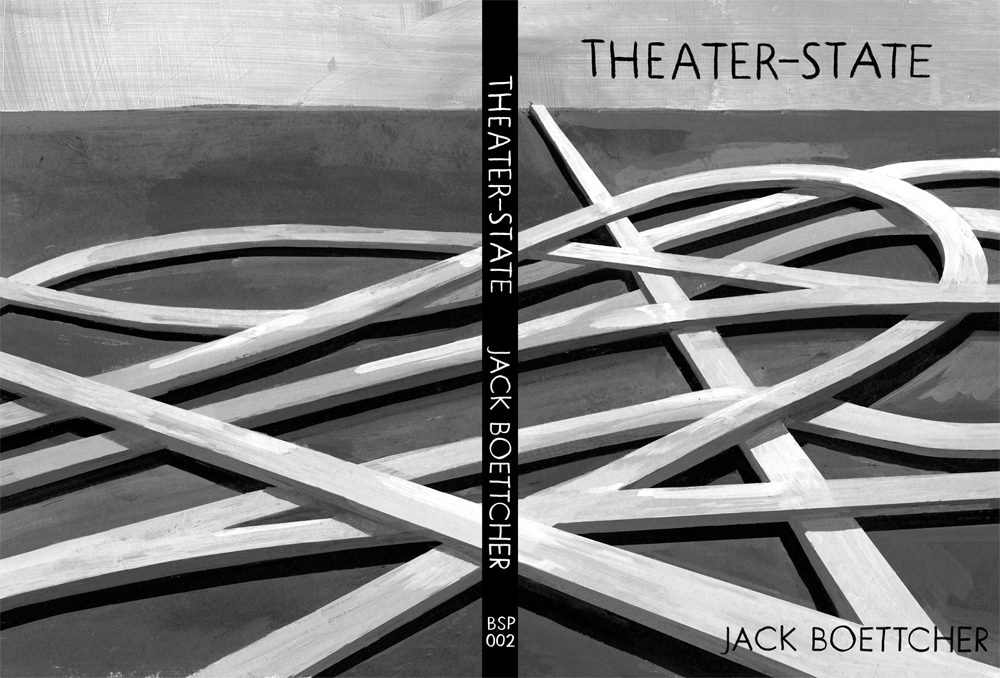 "Theater State reveals the panopticon not as an instrument of surveillance but as a mesmerizing holograph from which we prisoners of "reality" (and of high school) cannot tear our eyes. In this inside-out world, violence is an encircling Megahighway and the center mutable, vulnerable, and virtual, always flowing somewhere else. As young Janus negotiates the heights and sinkholes of adolescence, including an affair with a regional pop-avatar, servitude to a morphing, megalomaniacal principal, and a class project managing a convulsive neocolony, Jack Boettcher's reticulated sentences themselves contract and unfurl with sometimes enticing, sometimes ensnaring beauty. As the civics teacher Ms. Denton TX threatens: "Learning is an adventure.""
–Joyelle McSweeney, author of Nylund, the Sarcographer, The Red Bird, and The Commandrine and Other Poems
"Even though the principal in Boettcher's Theater-State has a white tiger slumbering in his office, the school that Janus and Katydid and Cassie attend, with Ms. Denton, TX as their teacher, is all too familiar – terrifyingly familiar. The mind-bending cross over between the world of statecraft and a private science academy becomes all too real for Janus…when it is revealed that it is drivers that shape the roads and not the other way around…and when the general paranoid lyricism of Boettcher's odd and compelling novel, like the Mayan ceremonial white roads, leads you not necessarily to a destination but on a journey. It's an amazing journey. I don't think you have any choice but to take it."
–Matthew Rohrer, author of Destroyer and Preserver, Rise up, and A Green Light
An excerpt from the book and preorder info are available here.
Tags: blue square press, Jack Boettcher, Theater-State
3 Comments
April 10th, 2011 / 7:45 pm Mike Young—
April 11th, 2011 / 3:56 am Mike Meginnis—

Excited about this. Editing + publishing Jack was so fun I did it twice.

April 12th, 2011 / 2:01 am Anonymous—