November 14th, 2011 / 1:53 pm
Presses
Guest Post: Giancarlo Ditrapano
TYRANT 9 PRE-ORDER/POST-OP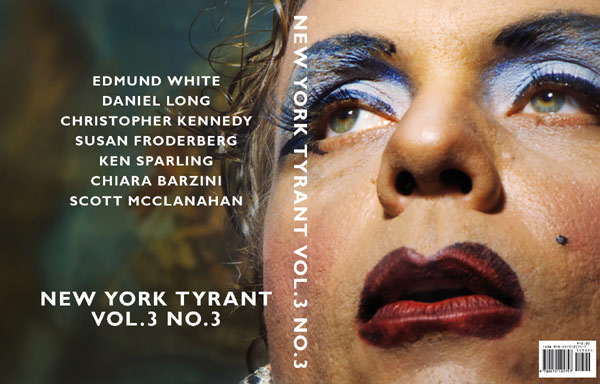 A year's passed since the last issue of the Tyrant came out. That's fucked up. This is unacceptable for a magazine that is supposed to be a bi-, or even tri-, quarterly, and my sole excuse is that I don't have an excuse. I want to blame it all on Luke (co-editor, friend, part-time lover) in full, for moving to Texas, but I won't, because I really can't. Whatever took it so long (and come on, who noticed or really cares that much?), to try to make up for the time you've had to wait, I thought I would expose/humiliate/shame myself for you all to have a good cringe or laugh at. Hopefully maybe both. My idea for the cover was to have me in drag on it because I thought it would be really like, self-absorbed-seeming. I wanted to try to get ultra-vanity press on it, even though that doesn't even mean that.
I've always thought drag queens were exceptionally brave people, but personally, I've never been "into" wearing women's clothes or looking like a woman. However, I have done it twice in the past year so who knows what's up with that. Drag is such an odd experience. For me, it was strangely intoxicating. While I was dressed up, and even for a couple of hours after, I felt like I'd been drugged, but in a good way. Probably best we don't get into all that here though.
For the shoot, I asked my boyfriend to do me up in something sleazy, so he did. Ryan Field, my oldest friend (did Montessori together), took pictures of the whole thing. A few weeks after, I was looking at what the cover image was to be on my iPhone when I tapped it and it zoomed in like iPhones do when you tap them. I thought the zoomed pic looked more iconic or something and I liked that better than the full shot for the cover which, though also a good photo, just makes me look like, gay or something. Maybe I was wrong, but I feel like I've captured the essence of "trying too hard" pretty well. Will Baker (one of my interns) took all of the outtakes from the shoot and put them in a slideshow, accompanied by a song I used to hate but now, thanks to Dent May, just fucking LOVE. I'm kind of hesitant to post this weird thing. It feels wrong and embarrassing, but that's what we're supposed to be doing, right? Humiliating ourselves? Also, I really want to promote the new Tyrant because it fucking rules.  In this issue, to be released on November 20th, you will find these champions of putting it down:
Edmund White
J.A. Tyler
Daniel Long
Christopher Kennedy
Sabina Murray
Jason Schwartz
Susan Froderberg
Daniel Bailey
Rolli
Erik Morsink
Evelyn Hampton
Eugenio Volpe
David Nutt
Greg Mulcahy
Gregory Vincent St. Thomasino
Mitchell S. Jackson
Adam Wilson
Sean Kilpatrick
Daryl Scroggins
Ryan Shea
Chiara Barzini
Michael Bible
Scott McClanahan
Gary Sheppard
Karl Taro Greenfeld
Brian Kubarycz
and Ken Sparling
There's so much good stuff in this one. Please trust me on this. You should be able to trust a guy who just showed you some deeply embarrassing shit, right? Order here.
N.B. I know that the m/f ration is fucked on this. I can't help it.
N.M.B. My boyfriend, Chris March, made the red and black thing I'm wearing over my shoulders. It's made out of human hair and was originally a skirt.
Giancarlo DiTrapano
@nytyrant
Tags: new york tyrant
31 Comments