December 6th, 2011 / 4:28 pm
Presses
Adam Robinson
Whoa: PRISM Index and What You Will
Here I have two great publications with incredible design and construction. They are 1) Prism Index, a magazine in its second issue, edited by Jeffrey Bowers, and 2) What You Will, a chapbook of poems by Kyle Schlesinger and published by NewLights Press.
They are both amazing — unbelievable, really, in their existence. It's remarkable that human beings can do this stuff.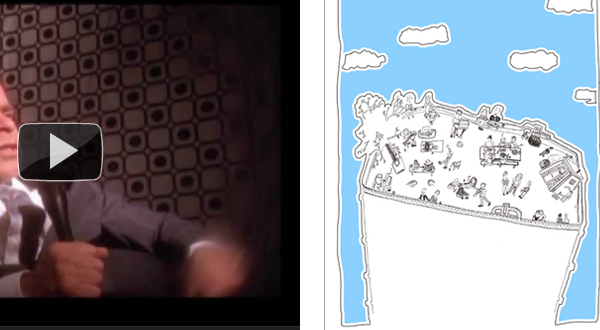 Open the cottony screenprinted cover of Prism Index — which is large format, like bigger than my copy of Inc. that sits near it — and there is a scanned napkin that lists Bowers's goals for this issue. "Let the whole thing play out like a mixtape," is one. "Maybe a bit longer" is another, and my favorite is "Handmade Book (make layout & format as meticulous & peculiar as the content.)" In this, he succeeded.
The magazine features writing by Kevin Sampsell, Trinie Dalton, Stephanie Barber, Bill Cotter and many more people. Amy Bender, Brian Evenson. There is vibrant art from Matt Furie and Eric Yahnker and Mel Kadel and Bowers himself. I can't list everything. There are 88 pages and they are all startling. There is also a DVD and CD that I haven't watched or listened to yet, but the names of the contributors are familiar to me.
I can't do it justice. Just click here for images of the spreads.
The Disinhibitor's review of Kyle Schlesinger's What You Will, from NewLights, says that Aaron Cohick (who runs NewLights, the press that did the $400 Brian Evenson book) did 202 runs on this letterpressed book. For each copy. Does that compute? For each page, you have to do at least one. Then you want to add another color or something, you do another one. You want to have different textures, which is popular now, you do another one. This book is about 40 pages long, maybe. It has a dust jacket over the two codexes, so it sits on the shelf with a spine like a perfect-bound book. The labor that went into this thing is incredible.
But it pays off. It ensures people are going to read Schlesinger's poems, I think. I know I kept wanting to see if the print quality on the next page is as good as the page before. The poems are printed in the negative — a black column creates the letters in outline. Then there is a column that looks like a palimpsest of the poem. That works really well for the content, since the poems are tentatively insistent as well. For instance:
There's Nothing More

To it
Than that

The sky is
Broken and

It's making
A mess
The book is only $20. Prism Index is only $25. I am enthusiastic about them both.
Tags: jeffrey bowers, kyle schlesinger, NewLights Press, PRISM Index
14 Comments