January 13th, 2014 / 10:00 am
Random
Gabino Iglesias
Best Covers of 2013
As 2013 came to an end, everyone made lists of the best books of the year. Sadly, most of the lists published in popular sites (again, I said most, not all) focused on whatever came from the Big Five during the year and left out the gems that came from indie presses. Then the same thing happened with covers. I read/saw best lists covers at places like Flavorwire and The New York Times, and none of my favorite covers were there. Sure, there were a few good ones, but most were unoriginal, unbalanced, mediocre, etc. You know, fake ripped paper, bad photography, a few birds. I held a lot of covers in 2013, and most came from indie presses, so I decided to make my own list of best covers. Here they are in no particular order.
Sociopaths in Love by Andersen Prunty. The cover image by Dorothy Bhawl is great. Plus, a naked man riding an old stationary bike while wearing an elephant mask has to be on any cover list you make. Grindhouse Press publishes outré literature, and their covers let you know what you're getting into.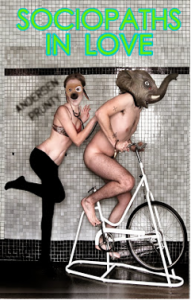 Bizarro superstar Carlton Mellick has made wise decisions throughout his career, and working with artist Ed Mironiuk is one of them. You don't need to see Mellick's name on a cover to know you're looking at one of his book. As every year, Mellick released a few novels and they all had good covers. However, Clusterfuck gets the top spot because it reminds folks of Apeshit's cover, pays homage to all things 1980's and gory, and because no one else out there has the guts to make underboob a recurring element in his or her cover art.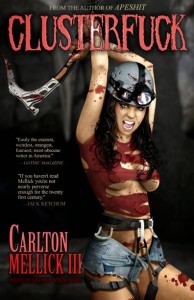 Michael J. Seidlinger is writing fantastic novels and editing/publishing top-notch literature over at Civil Coping Mechanisms. With whatever time he has left, he designs great covers. CCM covers are always different, and this year the best one was the cover for Heiko Julien's I Am Ready to Die a Violent Death. It's fun and wild and dirty, like a weekend in Vegas. Seidlinger is giving alt lit a look, and with the upcoming (June 2014) release of CCM's 40 Likely to Die Before 40, and anthology co-edited by Seidlinger and Lazy Fascist's editor Cameron Pierce and featuring work by Sam Pink, Scott McClanahan, Ana Carrete, Richard Chiem, Heiko Julien, Chelsea Martin, Megan Boyle, and many others, it looks like he will be doing it for a long time to come.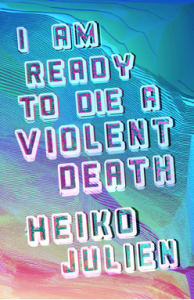 Chances are you haven't heard of Dynatox Minitries yet. In 2014, you probably will. Author Jordan Krall started it as a project to publish limited edition books by neo-beat, neo-noir, horror, surreal, bizarre, and just plain weird authors he thought deserved a chance and weren't getting one. It worked. Besides writing, editing, and publishing, Krall also does most of the covers, and some are as wild as the words inside. My favorite for 2013 is based on a painting by Krall and was designed for Randy Cunningham's short story collection The Man With the Donald Sutherland Face.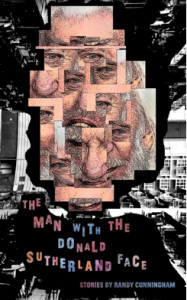 It seems Two Dollar Radio is doing everything right these days, and covers are not the exception. I loved the image on the cover of Scott McClanahan's Crapalachia, but the best one this year has to be Jeff Jackson's Mira Corpora. The color is unique and the art is eye-catching with a touch of creepy. Also, kudos to artist Michael Salerno for proving that with enough talent and drive, great things can be done with something as simple as a Flickr image.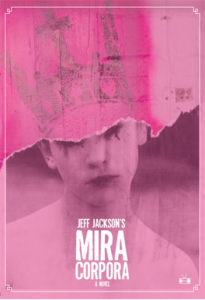 Reading those rigged lists everywhere was hard for many reasons, but not seeing a Matthew Revert cover anywhere was insulting. Revert, who besides an outstanding designer is one of the best authors out there and whose novel Basal Ganglia made my list of best reads of the year, is the go-to man when it comes to eye-catching covers. Broken River Books, Lazy Fascist Press, Copeland Valley Press, Grindhouse Press, Dark Coast Press, LegumeMan Books, Swallowdown Press, and Raw Dog Screaming Press are some of the outstanding indie presses that regularly turn to revert for the kind of designs that sell books. Remember that famous cover that resembled a whisky's brand and made Patrick Wensink a viral sensation? That was a Revert cover. Have you seen those recent books by authors like Jedidiah Ayres and Stephen Graham Jones that made Broken River Books the best thing to happen to crime fiction in 2013? All of them had Revert covers. All of Revert's work deserves to be on this list, but I'll give you the one for Pearce Hansen's Street Raised and suggest you check out the rest of his work on your own: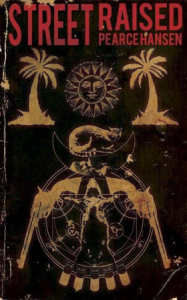 ***
Gabino Iglesias is a writer, journalist, and book reviewer living in Austin, TX. He's the author of Gutmouth (Eraserhead Press) and a few other things no one will ever read. His work has appeared in The New York Times, Verbicide, The Rumpus, HTMLGiant, The Magazine of Bizarro Fiction, Z Magazine, Out of the Gutter, Word Riot, and a other print and online venues. You can reach him at gabinoiglesias@gmail.com.