Random

Mercy Amado has raised three girls, protecting them from their cheating father by leaving him. But Mercy's love can only reach so far when her children are adults, as Sylvia, Celeste, and Nataly must make their own choices to fight or succumb, leave or return, to love or pay penance. When tragedy strikes in Sylvia's life, Mercy, Celeste, and Nataly gather support her, but their familial love may not be enough for them to remain close as the secrets in their histories surface. Forgiveness may not be accepted. Fiercely independent, intelligent, they are The Amado Women.
Today is the last stop of Désirée Zamorano's virtual book tour celebrating her new novel. Below, read a bit about Désirée's life as a writer, one that should not be chosen lightly.
More years ago than I care to admit I sat at a Bouchercon (mystery) conference and listened to the writer Patricia Sprinkle speak about the "seasons" in a writer's life. I had two small children, taught 5th grade, and had committed myself to carve time out of my day to write. But, I had given myself a daily quota that I was daily unable to make. Ms. Sprinkle's presentation reminded me that there would be different seasons in my life and to not beat myself up for being unable to make my arbitrary quotas. I took her words in, deeply.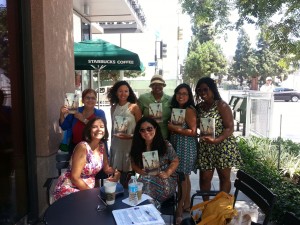 For decades I had one dream: to have a traditionally published novel that I could find on the shelves of a bookstore or library. Ten years ago, overwhelmed by unrealized dreams, and by what seemed like vain hopes and years' worth of hours of writing (all these words—to what purpose?), I remember lying in bed and praying for God to excise this writing aspiration from my heart. Instead, I found a book that saved my artist's soul: Making a Literary Life by Carolyn See.
Today is a very different time. Right now, I feel like the poster child for perseverance. When Cinco Puntos accepted my book, which would realize my dream, I released all the bitterness and resentment of my pre-published life. And I realized how ridiculous I had been, all these many years, to allow one thing to define me. One. How ludicrous. What, as they say in the psychology biz, a cognitive distortion. I wouldn't wish it on my nemesis. Well, maybe.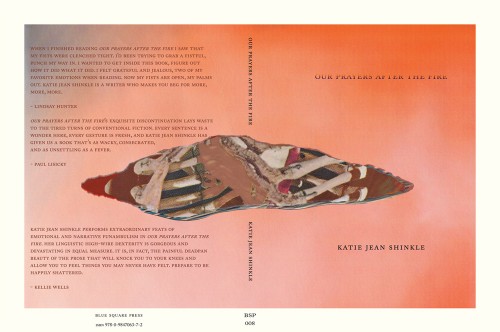 "When I finished reading Our Prayers After the Fire I saw that my fists were clenched tight. I'd been trying to grab a fistful, punch my way in. I wanted to get inside this book, figure out how it did what it did. I felt grateful and jealous, two of my favorite emotions when reading. Now my fists are open, my palms out. Katie Jean Shinkle is a writer who makes you beg for more, more, more."
—Lindsay Hunter
"Our Prayers After the Fire's exquisite discontinuation lays waste to the tired turns of conventional fiction. Every sentence is a wonder here, every gesture is fresh, and Katie Jean Shinkle has given us a book that's as wacky, consecrated, and as unsettling as a fever."
—Paul Lisicky
"Katie Jean Shinkle performs extraordinary feats of emotional and narrative funambulism in Our Prayers After the Fire. Her linguistic high-wire dexterity is gorgeous and devastating in equal measure. It is, in fact, the painful deadpan beauty of the prose that will knock you to your knees and allow you to feel things you may never have felt. Prepare to be happily shattered."
—Kellie Wells
Pre-order now from Blue Square Press.
Another round of catch up, periodically interrupted when I say I'm going to stop wasting time with bullshit and actually watch the legions of "art house" or "experimental" films that I've accumulated over the year. Despite the urge, always end up wanting to watch contemporary horror, something easy and fun about it with occasional surprises. Half of these are probably on Netflix, who knows.
Devil's Due
dir. Matt Bettinelli-Olpin & Tyler Gillett
Found-footage is all the rage right now, but I don't actually mind that because I think it's a totally effective mode of storytelling when it comes to the super-natural–also, it's never really a surprise to consider people filming everything at this point (have you been to a concert lately? more people are watching whoever is performing through their phone-cameras than actually watching the stage itself). I also always love movies that deal with satan/the devil/satanism or some half-baked idea of such. And so, this is fun, though I'm always struck by the hilarity of newlywed heterosexual married couples and how ultimately futile these relationships always are. Invented symbols are also always a plus for me, as it adds a sort of abstracted flair (see also: Paranormal Activity 5: The Marked Ones).
Afflicted
dir. Derek Lee & Chris Prowse
More "found-footage"ish fun with the added bonus of jet-setting with a terminal illness? For what ultimately turns out to be a vampire movie, this is a remarkably interesting take, and avoids the pitfalls that the genre has fallen into over the last 10 years in the US. Also mostly lacking in machismo for a movie which is about "two bros travelling the world," which is great, but the protagonist who is not afflicted is annoying as shit.
Resolution
dir. Justin Benson & Aaron Moorhead
Bizarre movie in the sense that it's part "get you off drugs buddy movie" and part "mysterious unknown forces are controlling some crazy shit and it's fucking with us." But, the absent nature of the unknown forces and their bizarre manifestations that tie into, in a sense, a sort non-linearity of events is interesting enough in concept to make the movie hyper-watchable despite not totally delivering on what's promised.
Dark Touch
dir. Marina de Van
De Van was a director who popped up among the "New French Extremism" micro-movement in the early years of the 2000s with a gore-ridden "Is-it-or-isn't-it-autobiographical" film In My Skin about a woman (played by the director) who becomes increasingly fascinated by self-mutilation after she suffers an accident, and ends with the woman covered in blood staring into the screen, basically (and from what I can remember at least). Dark Touch takes a super-natural approach to the issue of Trauma and child-abuse, which is really interested, but also gets weirdly marred near the end of the film when things are wrapped up a bit too pat. Regardless, this movie is still really interesting and worth watching.
Contracted
dir. Eric England
Fuck this movie.
Here Comes the Devil
dir. Adrián García Bogliano
Pretty terrific Mexican horror movie that plays up, once again, issues of trauma and the difference between the horror of the supernatural (the Devil) and the horror of man (pederasts). Icy cold in its approach (save for a minor scene of presumed-revenge) which is always preferred when it comes to affecting tone. The revelations that come at the end of the film are perfect, in the sense that it doesn't wrap anything up, it's not some bullshit and pointless twist, but actually seethes with a mythological backing that makes the entire trip the film provides really work.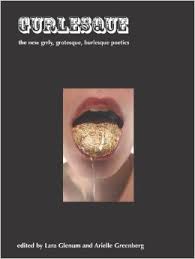 The second e-version of Gurlesque, an anthology of "the new grrly, grotesque, burlesque poetics," is coming out soon with an expanded number of amazing female writers, including Jennifer Tamayo, Marisa Crawford, K. Lorraine Graham, Kate Durbin, Kate Degentesh, among others— along with the original contributors, one of whom is Stacy Doris.
When I read Doris' funny, edgy, cerebral, and (dis)sensual Paramour in college, I knew I needed to go to San Francisco State for my MFA so that I could work with her in person. Stacy proved to not only be a phenomenal writer but also a caring mentor. Her passing in 2012 still feels raw today.
After reading an excerpt of Doris' book The Cake Part [1] which was published in the first edition of Gurlesque, I decided to read the full version and then (circuitously) write the following essay, incorporating other writers that used theater the way she did (or did not) in that book.
Only, since I was writing about transformative theater, I figured the traditional essay format wouldn't lend itself as well as a more dramatic format…
***
Scene: In a spaceship in a parallel universe. Android GERALDINE KIM types commands into the complicated lit-up dashboard as her ship is being attacked by a multitudinous tentacled alien race.
GERALDINE KIM: (ignores cosmic blasts while typing furiously.) I tried to write an essay on theatrical writing (not to be confused with the genre but more a leitmotif within other genres of writing—namely poetry) and then I realized that there are actually only a handful of instances of this in contemporary fem writing (that I could find).
GERALDINE KIM's BEST FRIEND WHO WISHES NOT TO BE IDENTIFIED: (enters.) How many instances did you find?
GERALDINE KIM: Four.
Are poets really ri¢h? It's the question of the ages. What is ri¢h, even? It is another question. Does it have meaning? Is it quantitative? Is ri¢h a lifestyle? Is ri¢h a feeling? Is ri¢h more than a feeling (more than a feeeeeeeling)?
I feel rich when I walk into a bookstore and steal copies of my own book. I feel broke when I get my royalty check amounting to sixty cents. I feel rich when I get tipped tokens on webcam sites. I feel broke when I calculate the value of said tokens. All poets want is a little token of appreciation. Can all the poets please get some?
Matt Margo is today's ri¢h poet, poeming away for a little gold coin. Or gold chain and medallion. Swag.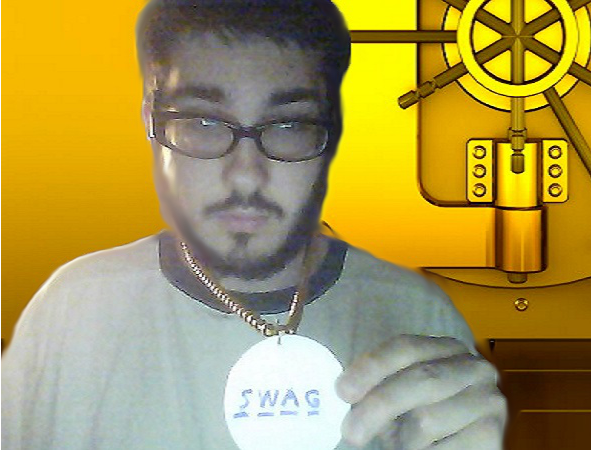 foe tha love of this
the money i linger over
is due entirely to
hours spent sitting around in the great
solar system designed
to be known as a kmart.
the money i shoot
only wants to maintain direct eye contact,
construct interesting beats, and
stare at my workplace.
my money is a poem wandering down mountains,
not a big word, just a thought,
a calming wash,
a spike through
a structural godsend.
ABOUT THIS POEM
This poem is included in my chapbook what i would say, which consists of found language from my Facebook posts strung together algorithmically. Each line is the result of chance, but each stanza is the result of taste—my attempt to compromise with the technology in terms of constructing meaning. The meaning being constructed in the case of this poem pertains to cash, which rules everything around me. I've never actually worked at a Kmart, but I do still understand the struggle of trying to invoke those dead presidents and keep them safe in wallets, checking accounts, and sock drawers. Yesterday I graduated from college, and today I am already feeling the tremendous pressure of needing but not having a job. The title of this poem is, of course, an allusion to my favorite Bone Thugs-N-Harmony song. But do we really live for the love of money? What other options do we have? The love of poetry?
Matt Margo i$ the author of When Empurpled: An Elegy (Pteron Pre$$, 2013), whi¢h you $hould pur¢ha$e $o that Matt Margo may one day be a Ri¢h Poet.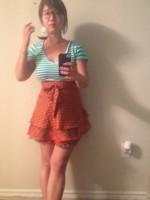 I remember it very clearly. It was Chinese New Year, this year: to celebrate, I wore red pants and a black and white polka dotted shirt and a red and brown cardigan. I looked down at myself and thought: Who let me out of the house like this? Luckily, I had not left my house. I was pacing in my backyard, smoking a cigarette, making circles and circles. I looked down at myself and had an epiphany: I'm fucking weird.
This is funny because for most of my life, I've tried to be weird, and then one day, I just became weird.
Ri¢h like a ¢ockaroach scrambling and fighting other lesser insects for a bite of discarded pizza ¢rust. Ri¢h like a fifty ¢ent soda. Rich like a fire poker in the bottom. Rich like green eyeshadow all over your face. Carabella Sands is a ri¢h poet, and if you ever saw her reading poems laying on a concrete floor, you would never have any doubts about it.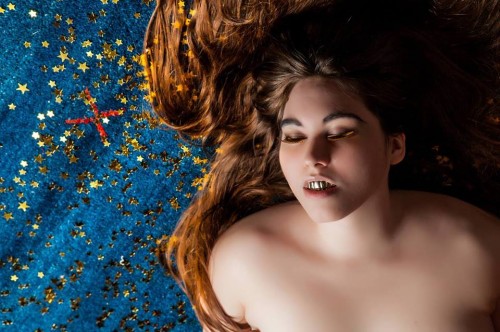 photo credit
Pornography
I hugged your boyfriend last night
He felt real good and warm
I tried to connect my brain to yours
All the way in Disney World
So you could get an image
Our bodies
A leading center
And imagine your bodies
I wanted you to feel him
And need to come home
ABOUT THIS POEM
Fuck. This poem is about love obviously. Feeling so good about hugging someone that you feel bad someone else doesn't get the chance to do it. I don't know how to write an "about this poem" Can't I pay someone to do it for me?
Carabella Sands is the ri¢hest poet ever. She owns the sun and most other stars. Her Tumblr is made of platinum and diamonds.