April 14th, 2011 / 9:52 am
Random
Catherine Lacey
Buy a book; help Japan.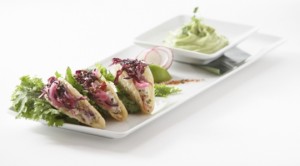 I was thinking yesterday about the parallels between the literary world and the culinary world while my domestic goddess sister and her chef boyfriend spoke to each other about various chefs (the brilliant ones and the megalomaniacs) and restaurants (from gastronomic pilgrimage sites to pretentious failures). The uneasy union between these two disparate worlds? The cookbook.
So, if you are the home-cook variety of lit geek, consider adding one more book to your collection: This all-star collection of recipes from giants of the culinary world– all the proceeds from the sale of this e-book (yeah, I said it) will go to the recovery in Japan.( I can't think of a better excuse to buy an ebook.)
Of course, you're not going to find any mass market recipes in there– no sir. These recipes are from chefs who've earned things  equivalent to the Pulitzer. If you've ever wanted to brush up your knife skills or broaden your kitchen repertoire past your mom's lasagna, now is the time. Braised black cod and wakame  soup awaits you.
33 Comments