June 3rd, 2014 / 6:57 pm
Random
Alexandra Naughton
Catalog of ri¢h poets: Manuel Arturo Abreu
I usually write the introductions on my own posts around here, but Manuel Arturo Abreu's intro is hella cute. And their post is hella cool and good and important. Sooooo /Tsaritsa out.
Poets stack that immaterial paper by living in the danger zone. Making written or typed marks is a way of briefly reminding ourselves we exist. It's easy to forget when you're rolling in the dough. The world is confusing when the spirit is so rich. This is why I say "you feel me?" Alexandra the based goth (aka Tsaritsa aka Billy Corgan's Whore aka the version you were afraid to ask for) asked me for a poem for her Catalog of ri¢h poets and I sent her this one about changing the game.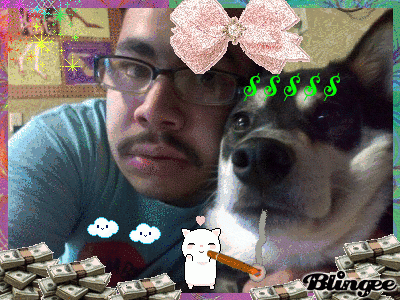 VIRTUOSO
Mr. A and Mr. B had just graduated from the same college. Mr. A was a biology major and Mr. B was a physics major.
º
Mr. A felt the need to "change the game." He vaguely knew about biometrics, and wanted to learn how to code, but felt like his "instincts had failed him," that he'd discovered about Silicon Valley too late, or something, and should've started coding when he was ten, maybe. He would have been a virtuoso by now.
º
Mr. B wanted to become part of a startup. He was a quiet beast at coding. He remembered once when a white guy wrote in a notebook, after a conversation with him, "QUANTUM COMPUTING → $$$" and then said he had to go do something. He was carrying a purple yoga mat. He had said he had just finished rehab for "a bunch of dumb shit."
º
Mr. B's parents had visited recently from India. He felt "drastically changed" from the experience, and stopped smoking cannabis. He had not been back home to Tamil Nadu in two years. He felt aversion to the idea of returning, but only had three months to remain in the US after graduation before needing to find employment, before his "grace period" ran out. He tells Mr. A, "I'm an alien. That's what they consider me, like the government you know."
º
Mr. A remembers when one of his friends told him a story about "how I believed for way too long that 'illegal alien' meant actual aliens, like from outer space, and I was hateful and afraid, until when I was like nine I learned it just meant real people, who like, the government or other random people had decided weren't allowed in this country, and I was like oh, that's so evil."
ABOUT THIS POEM
VIRTUOSO is a poem about being the best there ever was. Changing the game is a pressing concern to most people. Thus my poem is an example of Search Engine Optimization (SEO). The key is that both characters are my real-life friends. One is American, one is not. Therefore, because quantum computing, yoga, cannabis, and immigration issues are trending, I firmly believe this poem will soon become the first google search result for "i don't understand why people have to work to stay alive why can't we just walk around and talk and heal from history and stuff." I worked as a personal assistant for a self-described 'SEO wizard,' I know what I'm doing. He also had two poodles. VIRTUOSO is from a chapbook called List of Consonants, forthcoming from Dig That Books.
manuel arturo abreu is a poet and forgone soul based in portland. They are from the Bronx so the epithet 'boogie-down' applies here if you need a reason to google 'manuel arturo abreu.' manuel likes emo sexts, jazzercising, and sketchy ecoqueer fantasias. Their ideal date is a group of people sharing a laptop to show each other music online. manuel is hard at work tweeting, editing at greybook , and sleeping things off. Hire them, email for more info hearingdeafone@gmail.com.
Tags: ri¢h poets